Home Alone Isn't Just a Christmas Movie, It's an American Crisis
An Indiana mom was recently arrested when police found her two young children by themselves. But what other childcare choice did she have?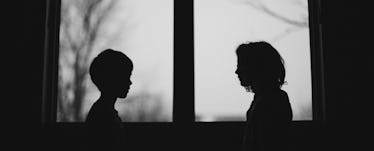 Taylor Joann Cumings, a single mother in Muncie, Indiana was arrested after an anonymous tip sent police to her home where her two sons aged 7 and 4-years-old were found unsupervised. The children had apparently been home alone for about 5 hours. Why? Because the 25-year-old working mom could not find care for her youngest son who was too sick to go to school. Instead of staying home herself, or sending her sick child to school, the mom made the choice to go to work and left her older son in charge. Her arrest, and the fact that she remains in jail on $10,000 bond, isn't an indictment of her or her parenting decisions. She did what she felt she had to do to keep her family afloat in a country with out-of-control childcare costs and a frayed social safety net.
Consider for a moment that according to Care.com, the average cost of a Muncie, Indiana babysitter is about $15 an hour. Taylor works at the Youth Opportunity Center where the average wage is well below $15 hour. Over the course of an 8-hour workday, Taylor would have had to shell out $120 dollars to make sure her kid was supervised by an adult. And that's working on the assumption that she could have found one in time.
In other words, Taylor would have inevitably lost over a day of wages, money that might keep the lights on and the heat hot. It's no wonder that she, when forced to make the choice, might take chances that place their children in harm's way. As ugly as the analysis may be, it very well might make more sense to keep kids you trust home alone rather than lose money, or your job.
The most frustrating part about the whole thing is that if Americans had the political will, we could solve this problem. There are some countries in the world where the cost of childcare is not an issue because it is heavily subsidized. A single parent in Denmark, for instance, will pay as little as three percent of their income on childcare. Meanwhile, a single parent in America should expect to spend up to 50 percent of their income to ensure their child is cared for. That's appalling.
In Norway, parents will pay around $400 a month, at most, on childcare which is guaranteed for every child at one year of age. By contrast, in the United States, where wages are lower, we spend about a tenth of a percent of GDP on childcare and parents can expect to pay around $1000a month to make sure their child has care during the day — though that figure varies wildly from state to state and city to city.
Notably, some employers offer on-site care or provide childcare reimbursements for working parents. But according to the Bureau of Labor Statistics, the percentage of employees who can access those perks are pretty small. In the private sector, only 35 percent of employees are offered childcare reimbursement and a scant 10 percent have access to on-site child care. But the lower your wage is, the less likely the ability to access those perks. For workers with wages in the 1 to 25th percentile, the percentage of workers who can access childcare reimbursement or onsite childcare drops to 16 and 5 percent respectively.
That's completely backward. And it places mothers like Taylor in a terrible situation.
There are, fortunately, some ways to fix the problem, though. Some suggest offering parents a parenting salary. Others suggest using a Scandinavian model to subsidize universal childcare for American parents. Either one makes sense. The American birth rate is declining rapidly and that will have severe long-term effects on the economy and the economic standing of the country. If America wants to have an economy, there needs to be a way for parents to survive without facing decisions like the one that Taylor made.
Sadly, these ideas, which might be critical to the long-term viability of our capitalist project, are widely discounted for being socialist madness. And now, a mother who should be home with her children is locked in jail on the taxpayer's dime. This doesn't make any sense. We should be outraged. We just shouldn't be directing our ire at a hardworking mom.
This article was originally published on