The Amazon Toy Catalog Is the Stuff of Dreams and Every Kid Should Get One
The kids would rather peruse a toy catalog than watch unboxing videos? It's a Christmas miracle!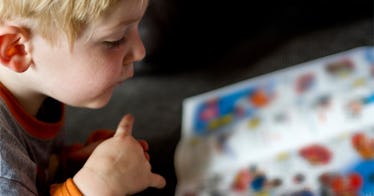 Weeks out from launching their online Black Friday deals, Amazon's toy catalog arrived in my mailbox. Initially, there was a delicious sense of irony in the simple fact that the largest online retailer would send me a paper toy catalog. But that irony lasted until the moment the catalog found its way into the hands of my children. At that point the method to Amazon's toy catalog madness became clear. And with the understanding of Amazon's motives came a flood of nostalgia and a realization that the best toy gifts for children during the holidays are the ones they imagine until Christmas morning.
I can't accurately recall the last time I've seen a toy catalog. I know it's been decades, at least. So it's no wonder that I forgot how important a toy catalog could be to a kid's life. I forgot the joy of flipping through the glossy pages and dreaming.
The Amazon catalog is true to its classic toy catalog roots and fills a noticeable void left by Toys R Us. Pages are divided according to toy types (outdoor, STEM, action) as well as brand (Lego, L.O.L., Nintendo). The pictures of products are rendered bright and kinetic, but there's little in the way of description to get in the way of the eye candy.
LOOK NO FURTHER: The 50 Best Toys of 2019
Amazon's innovation of the toy catalog medium are present but minor. Each page has a QR code allowing shoppers to find the relevant products online, the book includes stickers so children can mark the toys they most want and there is not a single price to be found.
Having never seen a toy catalog themselves my boys, 6- and 8-years-old, were a bit perplexed by its purpose. They knew it must be for them — there was a picture of a happy kid on the cover, a sheet of stickers and toys on every page — but was it for just looking at, for reading, or for sending to Santa as a visual guide?
It took a little explanation for them to figure it out: The catalog is a way to organize your wishes. You can pick from the toys and then cull those choices down or pick different toys, should you change your mind. We explained they could pick anything they wanted, but that those choices didn't mean they would receive what they picked. It's just a guide.
Soon they were pouring over every page. Even odder, they were looking as a team. One toy catalog, two sometimes-combative brothers. I was amazed the thing wasn't shredded in some kid of needful, greedy melee. They turned every page carefully and discussed the options. They talked about what they thought was awesome and what wasn't awesome. They discussed their differences in tastes and their similarities. And they did this for nights on end, always thoughtful, thorough and deliberate.
As they marked the book I thought I'd open it to find every toy designated with a sticker or a circle. But that wasn't the case. What I saw was a pattern of my children's interests. I realized there were common denominators.
The youngest was drawn to the dark side. He'd marked all the monstrous, slimy things — a dissectable alien, a twisted lego set of Stranger Things Upside Down, dinosaurs, and villains. My older boy wanted tech and intellectual pursuits — toys that had to be built, brain games, remote-controlled and science toys. In the pages were their unique personalities rendered in wishes.
I'd expected the catalog would be a burden in my life. I expected it to be the nexus of whining, begging, and tears. That hasn't happened. Instead, my children have gone back through the pages, again and again, to talk about the pictures and to continue dreaming.
And that's the specific magic of catalogs that Amazon has managed to capture. Unlike a website or unboxing video, a catalog requires acts of projection and imagination. From now until Christmas day when my children open that toy catalog they have the experience of playing with all of the toys that are collected in the book. They place themselves in the family room, driving cars around the floor, or building sets at the Lego table. They project themselves to the dining room table, playing board games, assembling science kits, and dissecting slimy toy aliens.
The details can only be made up. All they have to go on in these visions is a single picture. The rest happens in their minds. The toy catalog requires a robust imagination. It also requires the ability to reconcile oneself with anticipation. Waiting is a skill. Waiting when the outcome is undetermined and unknown requires even more effort.
I'm sure all of this imagining and anticipation will lead to a small pang of disappointment on Christmas morning. But that's part of the whole thing too. And happily, whatever disappointment pops up is ameliorated by the fact that there are real toys to be played with. How sad can you be, really? And by then, the catalog becomes a tattered memory.
But for the coming weeks, the catalog is a powerful touchpoint of imagination. It's a gateway of wishes and hopes and because of that is a kind of present in and of itself. I'm glad it's back and I hope it remains.