The Good and Bad Things to Happen to Kids in 2018
Children and parents saw reversals in 2018 as the American government abnegated its role as caregiver, gun-related deaths rose, and the world heated up.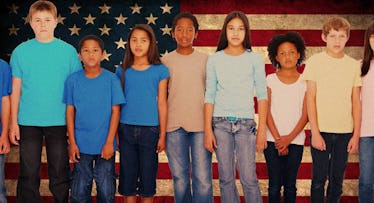 2018 was objectively bad for adults: obesity rates rose, climate change warnings became more dire, politics became nastier, gun-related deaths rose as a leading cause of death for Americans, life expectancies for adult Americans fell, the stock market tumbled at the end of the year. In short order, it was a tough one. It was a tough year for kids, too. They too were not inured to the dearth of gun-related deaths in the country; for the first time ever, gun-related deaths rose to the second leading cause of death for kids. The internet was consistently revealed, over and over again, to be an unsafe place for them — even kid-friendly internet spaces such as YouTube kids promoted inappropriate and violent content. But that doesn't mean it was all bad. In fact, a handful of really good things happened to kids in America this year. Here's a look at some of the bad and good things that happened to kids in 2018.
The Bad: The Horrid Mistreatment of Migrant Children & Families
2018 will be known as the year in which kids were forcibly separated from their parents upon seeking asylum in the United States from war-torn and drug-cartel infiltrated countries. Several thousand children were stuck in detainment centers that were privately owned and staffed by un-vetted, unqualified caretakers. Some of these migrant children are still not reunited with their families. Two children died in detention centers. Currently, 15,000 kids are being detained in centers along the border on a long-term basis.
The Good: Federal Prison Mandate Reform
In early December of this year, President Trump passed a bi-partisan bill that will reform federal prison mandates and sentences across the United States. Part of this bill was reducing the severity of the Bill Clinton -era "three strikes" bill from a lifetime sentence to a 25-year sentence, which a great step in the right direction. The bill also increased funding for programs that would aim to reduce recidivism and help train incarcerated people for jobs upon release from prison. The importance of this bill and what it means for the nearly three million children of incarcerated parents is paramount. It also signals a larger shift in the way we talk about incarceration in the United States and could signal future, monumental prison reform that could help lower our ballooning population of imprisoned people.
The Bad: The CHIP Rollercoaster
In 2018, the Children's Health Insurance Program (CHIP) ran out of funding and then subsequently lapsed in coverage in several states, leaving millions of American kids without health insurance. It took months of protracted congressional infighting over the Tax Cuts and Jobs Act in order for funding to be restored. Even then, it was only restored with six years of funding, meaning that another political fight over the program is just around the corner.
The Good: The Overhaul of the Foster Care System
In 2018, Trump also signed the Family First Prevention Services Act, a foster care act that will revolutionize institutionalized foster care in the country and focus largely on preventing kids from entering institutions altogether through prevention services like parent coaching, mental health counseling, substance abuse programs, and anger management courses rather than immediately removing a kid from a home and taking them to a foster care home. This could help keep families together and limit the permanent separation of parents and kids that occurs on a daily level in the United States.
The Bad: All Talk and No Action on Parental Leave
Parental leave was a huge part of the political conversation in 2018, and a program was even endorsed by Ivanka Trump. However, for all of the conversations about what a federally mandated parental leave program could look like in America, it all came to naught. No serious program was considered and no serious laws were put on the table. In fact, a revolutionary child care law has gone nowhere since it was introduced in 2017. Parents and kids lost.
The Bad: The Rise of Gun-Related Deaths, Measles, and Uninsured Children
In 2018, the rates of gun-related deaths (including suicide) and car accidents involving kids rose. Currently, gun violence accounts for some 15 percent of kids deaths, just behind car accidents. Rates of measles also rose, which is shocking. Measles, an autoimmune disease, had previously been all-but eradicated in the United States, but as a result of anti-vaxxers, rates of the disease are once again on the rise. Just one unvaccinated kid with the measles can pass it along to at least a dozen people. The number of uninsured American kids also rose this year for the first time in the decade. There was also a rise in kids going to the ER for mental health reasons.
The Good: No More Life Without Parole for Juvenile Crimes
As of this year, 21 states have officially banned the practice of sentencing juvenile criminal offenders to life in prison without the possibility of parole. This practice has quadrupled since 2012 and is a huge step in the right direction for helping rehabilitate kids and give them second chances at life. Additionally, the amount of incarcerated juveniles has dropped by 80 percent over the past 20 years, which signals a shift in the way the justice system treats kids who may have committed crimes.
The Bad: The Infiltration of YouTube Kids
YouTube tried (and failed) to successfully keep YouTube Kids on the internet. The kid-friendly version of the social media platform aimed to provide kids a safe space to explore fun, age-appropriate internet videos, songs, animation, and unboxing videos. However, in the early part of 2018, a massive wave of content-farm generated "kids" videos that somehow skipped filters and flags and featured beheaded Peppa Pigs, murderous Elsa's, and pregnant Barbies.
The Good: Kids Movies Have Never Been Better
This year, Coco, Incredibles 2, Mary Poppins Returns, A Wrinkle In Time, Wreck-It Ralph 2: Ralph Breaks the Internet, Paddington 2 and more showcased kid protagonists in ways that neither undermined them nor made them the butt of a joke. Many kids in these movies were strong, smart, quick-witted, brave, and stood up for what they believed in. They also faced hard decisions without clean endings. In a world and a year in which chaos seemed to reign, both on parents and on their kids, the fact that we can look to fictional heroes and see a lot of them look like sons and daughters is at least somewhat heartening.
This article was originally published on