Tom Colicchio's Sour Cherry BBQ Chicken Wings Are A Next-Level Snack
Crispy. Spicy. Saucy. The Top Chef judge's wing recipe is, of course, a winner.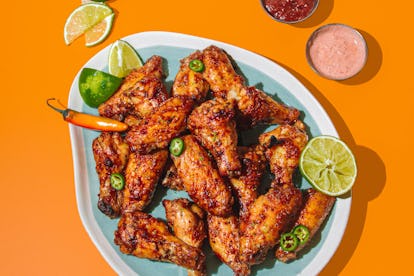 Four Course Media
If you've ever doubted our country's infatuation with chicken wings, consider this: Americans consumed 1.4 billion of them during last year's Super Bowl alone. Whether smoked or fried, dusted in spices or sauce-painted, platters of wings are guaranteed to make an appearance at pretty much every party this year.
Tom Colicchio, counts himself among the legions of wing lovers. The chef, restaurateur, author, and Top Chef judge is also a sustainable food advocate and is passionate about educating consumers about food waste. He makes it a point to share videos of his family composting and to highlight the importance of shopping more mindfully, repurposing leftovers, and teaching his children about using food scraps.
"We've come of age in an era of low-cost fast food and convenience meals, with many layers of processing and packaging between us and the human beings that cultivated the ingredients in them," he writes in the forward to the James Beard Foundation's Waste Not, a cookbook centered on techniques and recipes for reducing food waste. "It's that distance, real and metaphorical, that makes waste possible: throwing away half of a dollar meal is easier than tossing half the ragu your grandmother made from scratch, or half of a crop your family labored to grow."
Colicchio teamed up with Do Good Chicken to share his go-to wing recipe and draw attention to a brand that's helping do their part to reduce food waste. The company works with grocery stores and food banks to turn food waste into chicken feed that its cage-free birds then consume.
Chances are, you have a preferred chicken wing treatment. But Colicchio's recipe is well worth adding to the rotation. It features a sour cherry barbecue sauce, some heat courtesy of serrano peppers, and a pop of citrus from lime. The oven-baked wings are tangy, spicy, and crispy with the right level of sauciness. You can prep the sauce up to three days in advance if you'd like — and Colicchio recommends mixing some of the remaining sauce with sour cream or mayo and using it for dipping.
When it comes to nailing your chicken wings, Colicchio has a few pieces of advice. One, dry your wings on paper towels and leave them uncovered in the fridge for up to two hours to fully dry out. This helps create that ideal crispiness. If you don't have time to dry out your wings, Colicchio says to dry them with paper towels, and add ¼ tablespoon of baking powder per pound of wings along with the oil, salt, and pepper before sending them into the oven. The baking powder helps break down the meat and helps produce a crunchy texture.
Whether you prepare them for Superbowl Sunday or some other time, these wings make a nice addition to the regular rotation. And, when you eat the leftovers (if you have any) Colicchio recommends baking them at 450 to reheat them through and maintain that crispy texture.
Tom Colicchio's Sour Cherry BBQ Wings
Courtesy of Do Good Foods/Tom Colicchio
Ingredients
2 tablespoons salted butter
1/2 yellow onion, finely chopped
1 serrano chili, seeded and minced
2 garlic cloves, smashed
1 cup dried sour cherries
1/2 cup white vinegar, add water as needed
1/2 cup sugar
1/3 cup lime juice, about 2 limes
1 lime, zested
1 tablespoon ketchup
Salt and Pepper
Flavorless oil, such as avocado or vegetable
Directions
Preheat the oven to 450F and line two large baking sheets with parchment paper.
In a large bowl, toss the chicken wings in two tablespoons oil and season with salt and pepper.
Transfer the wings to the baking sheets skin side up and bake for 45 minutes, until cooked through and crisp.
Meanwhile, in a medium saucepan, melt the butter over medium heat. Add the chopped onion and cook until softened and lightly browned, about 5 minutes. Add half of the minced serrano pepper and smashed garlic and cook for 1 minute, until softened and garlic is fragrant.
In a small sauce pan over medium heat combine cherries, vinegar, and sugar. Bring to a boil and simmer for 10-15 minutes, until the cherries are plump.
Remove the cherries from the liquid and add to the sauté pan with onions.
Add the onion and cherries mixture to a blender along with the lime juice, and ketchup. and blend until smooth.
Return the cherry BBQ sauce back to the pan and stir in the remaining serrano pepper. Bring it to a boil over medium-high heat and season with salt and pepper to taste. transfer the BBQ sauce to a bowl.
Once the wings are finished baking, remove them from the oven and add them to a large bowl. Toss with one third of the cherry BBQ sauce.
Return the tossed wings back to the baking sheet and bake for an additional 5 minutes until sticky and caramelized.
Transfer the glazed wings to a serving dish, sprinkle with lime zest, and serve with the remaining glaze on the side.