Chef Ken Oringer's Asparagus Risotto Is A Family Meal Worth Making
The acclaimed chef shares his family-favorite recipe, along with three essential tips for creating a perfectly creamy texture every time.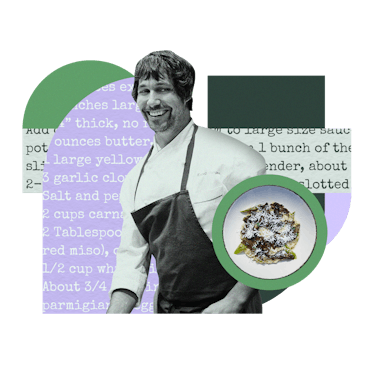 Ariela Basson/Fatherly; Photography: Elizabeth Cecil
In 2020, Ken Oringer's daughter, Verveine, was diagnosed with celiac disease, which meant she had to adopt a gluten-free diet. The James Beard Award-winning chef and restaurateur couldn't live with the fact that his daughter wouldn't be able to enjoy the food served at his restaurants. So, when coming up with the concept for his newest spot, the coastal Italian Faccia a Faccia in Boston's Back Bay neighborhood, Oringer worked hard to ensure that all the pasta dishes — from the paccheri with gulf shrimp and crab to the mafalde cinghiale with wild boar, cocoa powder, and chanterelles — could easily be offered gluten-free.
"I couldn't image a world where my daughter couldn't come down to one of my spots and enjoy the food," says Oringer. "I wanted to make sure all the dishes she would miss the most were available for her."
Fine-tuning gluten-free pasta recipes that were up to the standards of Oringer, who has four other restaurants in the Boston area — the sashimi bar Uni; the wood-fired pizza and pasta restaurant Coppa; the tapas bar Toro; and the eclectic Little Donkey — took "a lot of trial and error." He wanted to make great pasta that just happened to be gluten-free. The pandemic provided time for him to perfect his dough, and the large kitchen at Faccia a Faccia enough space to safely prepare celiac-safe pastas.
"It was a challenge, but it was worth it, as I don't ever want to make Verveine feel like she's missing out on anything when I'm cooking," says Oringer. His hard work paid off. Proof is in the publicity, as Faccia a Faccia, in addition to garnering positive reviews for its modern spin on coastal Italian, is also receiving praise for being a celiac safe haven.
Support for Verveine, now 13, became a family affair, too. Oringer; his wife, Celine; and 11-year-old son, Luca, all decided to adopt a gluten-free diet as well. That, says Oringer, "was also a challenge, but it was a fun challenge we all took on together." Father and daughter also collaborated on the soon-to-be-released Cooking With My Dad the Chef: 70+ Kid-Tested, Kid-Approved (and Gluten Free!) Recipes for Young Chefs, which offers an assortment of approachable, gluten-free recipes.
Fatherhood is the No. 1 priority for Oringer. Despite the work that running a restaurant group requires, he's constructed a schedule that allows him to be as present for his kids as possible. He cooks breakfast for them every day, makes lunch on the weekends, and often sneaks out of the restaurant kitchen to eat dinner with his family a few nights a week.
A meal that often makes an appearance at the Oringer table, and that he was generous enough to share with us, is his risotto with asparagus and Parmesan. Oringer's spin on the iconic Italian dish features the inclusion of miso paste for added richness and is made using gluten-free carnaroli rice. He selected risotto because it's a dish that everyone in his family loves — something that isn't always easy to achieve — and a quick, not too difficult one-pot meal that's perfect for families.
Risotto? Not too difficult? Delicious, yes. It's a dish that comes together quickly but can be notoriously tricky to elevate to its benchmark creamy consistency. A little bit of over-stirring or overcooking and that just-right texture is lost.
Oringer, however, wants to put any fears to rest. "Even though it seems as if it requires constant stirring, you can be lazy and it will still come out good," he assures. He also has a hack for home chefs who don't have the liberty to stand uninterrupted at the stove: the pressure cooker. "It turns out delicious and only takes about eight minutes."
In addition to the recipe, Oringer gave us three essential tips for making successful risotto: One, measure out the amount of broth to the amount of rice before starting. Two, be sure to toast the rice in a butter and olive oil mixture so that it hits the right stage of absorption. And three, trust the process and don't cook it on too high of a heat.
Regardless of how your risotto turns out, Oringer is more interested in families sitting together around the table.
"Being a dad to me means being super supportive, not being afraid to tell your kids they're doing something wrong, and to just be a role model in terms of how you should be kind and how you should treat everyone you meet," he says, adding that the best way to appreciate fatherhood is to "enjoy the adventure that life throws at you."
Wise words. A good bowl of risotto helps, too.
Ken Oringer's Risotto With Asparagus And Parmesan
Makes 6 servings
Ingredients
1 1/2 quarts chicken stock, plus a few ounces extra
3 bunches large asparagus, sliced 1/4-inch thick, no rough stems
4 ounces butter, 1 stick
1 large yellow onion, diced
3 garlic cloves, peeled and minced
Salt and pepper, to taste
2 cups carnaroli rice
2 tablespoons miso paste (such as red miso), optional
1/2 cup white wine
About 3/4 cup finely grated Parmigiano-Reggiano cheese
2 tablespoons chopped fresh mint
Zest of 1 lemon
3 tablespoons olive oil
3 tablespoons coconut oil, at room temperature so it can be drizzled
Directions
1. Add chicken stock to medium- or large-size sauce pot and bring to a simmer. Add in 1 bunch of the sliced asparagus and cook until tender, about 2 to 3 minutes. Remove asparagus using a slotted spoon or a spider, and place straight into a blender. Add about 12 ounces or so of the stock and blend until smooth. Pour the mixture back into the pot of hot stock and stir.
2. Place a large sauté pan over medium heat and add 3 tablespoons of butter. Add in the onion and garlic and cook until soft, about 5 to 7 minutes.
3. Add in the rice and stir to coat in the butter. If using, add miso and stir to combine.
4. Add wine, stir and cook until the wine is evaporated and the mixture is dry.
5. Add in the asparagus stock, one 6 ounce ladle at a time, and stir. When the liquid is absorbed, add another ladle of stock. Continue this process until all of the stock is absorbed and the rice is al dente, making sure the finished risotto mixture is a bit loose.
6. Add in the rest of the butter, Parmigiano, chopped mint, and lemon zest. Stir to combine and set aside.
7. In a separate pan set over medium high heat, add olive oil, and sauté the rest of the sliced asparagus. After a couple minutes, add in 1 cup water, season with salt and pepper and continue to saute until al dente.
8. Give the risotto another stir and spoon onto a plate or in a bowl. Add some sliced asparagus ragu on top and drizzle with coconut oil just before serving. Garnish with your favorite wild mushrooms sautéed in olive oil.