Kansas City OL Nick Allegretti Is The First New Dad Of The Super Bowl LVII
Kansas City came out on top yet again.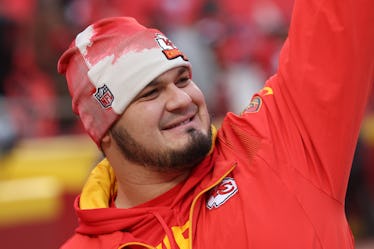 Icon Sportswire/Icon Sportswire/Getty Images
The Super Bowl LVII was an exciting game. High scoring, extremely competitive gameplay, and an injury that threatened to change the trajectory of the game made the match-up a beyond-entertaining watch. But there were more life-changing events at stakes for the players on the field of both. Those events? The births of their Super Bowl LVII babies.
Kansas City Chiefs' offensive lineman Nick Allegretti's wife, Christina, were the first to jump off the Super Bowl LVII baby party, welcoming twin girls! According to ESPN, Christina went into labor in the early hours of February 12th back home in Chicago.
With Allegretti in Arizona for the big game, he couldn't attend the Chicago birth. Instead, he watched the birth of his twins on FaceTime in the hotel lobby in the early hours while the rest of his team slept.
They weren't the only football family to welcome a baby that day. According to US Weekly, Kansas City Chiefs wide receiver Mecole Hardman Jr. and his partner, Chariah Gordon, also welcomed a little one! Ahead of the game, Hardman, who was out with an injury, updated fans on Twitter saying his partner had gone into labor, tweeting, "OMG HER WATER BROKE."
In the early hours of Monday, February 13th, Hardman updated his fans again with a tweet that read, "He's HERE !!!!!!"
As if three football babies born on (or just after) Super Bowl Sunday weren't enough, a potential third football family could have expanded during the game, too. Jason Kelce, the starting center for the Eagles, and his wife, Kylie, were so nervous their third child might make an appearance during the big game that they brought two OBGYNs to the game, just in case.
Kylie even joked about the unique name they would give their new baby if she delivered during the big game. "We don't have a name, but my husband keeps making the joke that if she does come while we're out there that we'll name her Super, which is one of the most absurd things I've ever heard of in life," Kylie told People.
Many congratulations to the Allegretti family, the Hardman family, and, not too long from now, the Kelce family.