The Best Espresso Martini Recipe Is All About Attention To Detail
And with these expert tips and riffs, you can shake up a sublime caffeinated cocktail.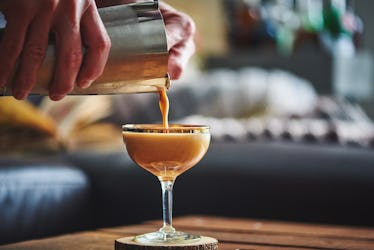 Getty
Of all the cocktails that we owe to 1990's bar culture, the Espresso Martini is probably the biggest success story. You're far more likely to find it on a cocktail menu now than that other great 90's addition to mixology, the Cosmo. It's a unique drink in that it serves dual functions of inebriation and stimulation. It's also a one-off drink rather than a binger so it doesn't out stay its welcome. Most importantly it's ripe for reinterpretation and improvement. In fact, tweaking the recipe has been part of the Espresso Martini DNA from the beginning.
The Espresso Martini could have been buried in 90's cocktail shame along with its highlighter-green, apple-flavored cousin, and yet it's never been more popular than it is today, thanks to the rise of ready-to-drink canned cocktails, and the availability of new and better ingredients like easy access to fresh espresso, and superior craft liqueurs. But in order to truly master the Espresso Martini recipe and to improvise in the right way, there are a few things to avoid as well as a few tips for how best to recreate the classic or riff on the recipe and make it your own.
Before we get to that, let's take a trip back to mid-1980's London for an espresso origin story. The London bar scene in the 1980's was a bar culture in transition. Traditional British pubs didn't even have ice, let alone fresh mixers, so the London cocktail bars that popped up at the time were a revolution. At the Soho Brasserie, two trends that were swirling in the zeitgeist at the time — cocktail culture from America and coffee culture from Europe — converged in the hands of bartender Dick Bradsell. According to Bradsell himself, a "young American model" approached the bar one night and asked him to make her something that "wakes me up and then fucks me up."
Bradsell recalled the moment for an interview in 2013, three years before his death: "The coffee machine was next to where I made drinks — I added a double shot of vodka, Kahlua, Tia Maria, sugar, shaken with very, very strong coffee." He served it on the rocks with a garnish of three espresso beans and called the drink, the Vodka Espresso. It became an off-menu special for his friends.
In 1997, Bradsell opened up the London bar Match EC1, where he continued tweaking the recipe, and it made the leap from rocks to martini glass and earned a spot on a cocktail menu for the first time. By the end of the '90's, Bradsell went to work at the Damien Hirst-owned Notting Hill bar, Pharmacy, where he renamed the cocktail Pharmaceutical Stimulant, and started serving it on the rocks again, at one point adding a cream float. Despite its new name, the name Espresso Martini was already taking off around the world.
The original Espresso Martini recipe features vodka, espresso, coffee liqueur, and simple syrup. But we all have permission from the Espresso Martini's inventor to have our way with his original formula. "The Espresso Martini is a robust recipe," said Bradsell. "It can be played around with." And that's exactly what has happened since his concoction took on a life of its own in the years and miles beyond 90's London.
Bartender Miguel Buencamino, known by the Instagram handle @holycityhandcraft, recently created a viral video on Instagram about a new trend of a Parmesan Espresso Martini. And the popularity of this crazy savory variation proves the continued relevance of the drink today.
We spoke to Buencamino about the Espresso Martini and some tips for making — and consuming — the cocktail in the right way.
How To Make A Perfect Espresso Martini
1. Use Fresh Espresso.
"The CO2 bubbles bind with fat molecules and create that crema on top," says Buencamino. "That's so essential to creating a head on an Espresso Martini because it looks silly without any foam and just three beans sinking to the bottom — and for the texture and mouthfeel of the drink." And don't use cold brew concentrate, either, as "it doesn't taste nearly as fresh."
2. Chill Your Glass.
It makes the foam last longer and the drink stay colder.
3. Don't Drink More Than One.
For your health and your palate, the Espresso Martini is a drink you enjoy one of and then move on. As a beginning-of-the-night drink if you're flagging, as an end-of-dinner drink to shift into party mode, or a late-night drink to keep the party going a little longer. But don't drink these in multiples.
4. Use Saline Solution to Bring Out More Subtle Flavors.
The balance of salinity with the bitterness of coffee rounds out the flavor, says Buencamino. He adds a few dashes of an 80/20 saline solution. "For any cocktail with a bitter component, the saline accentuates everything else." He even uses smoked salt in some variations of his Espresso Martini recipes. "It adds a subtle smokey flavor that if you give it to someone, they're like, 'what is that?'" He says that saline also "accentuates the love that went into the beans."
5. Don't Put Parmesan Cheese On Top.
This isn't about dogging Buencamino's viral sensation, but more about helping people avoid a cheesy misfire. "I actually liked it," says Buencamino, "and this is going to piss off the internet and a lot of Italians, but most people aren't microplaning Parmigiano Reggiano on top, they're just using cheese from a bag."
6. Do Play Around With It.
"Dick Bradsell said it himself, it's a cocktail meant to be modified," says Buencamino.
The Classic Espresso Martini Recipe
Ingredients
2 parts vodka
1 part espresso
1 part coffee liqueur
½ part simple syrup
Directions
Shake over ice, strain into cocktail glass, garnish with three espresso beans.
Two Espresso Martini Variations To Try
1. The Kingston Espresso Martini
Swapping out vodka for rum in the Espresso Martini makes a lot of sense, as the spirit's inherent sweetness plays well with the coffee. This rum-based riff features two types of the sugarcane-derived spirit as well as some coffee liqueur for added oomph.
Ingredients
2 parts rum (Buencamino likes one part Hampden Estate for its funky flavor notes, and one part Probitas Rum to round it out)
1 part espresso
½ part coffee liqueur (Buencamino likes Mr. Black for its richness.)
½ part cane sugar syrup
A few dashes of saline solution
Directions
Shake over ice, strain into cocktail glass, garnish with three espresso beans.
2. The Oaxacan Espresso Martini
Coffee, chocolate, and heat are a classic trio. This tequila-based riff on the caffeinated cocktail features Creme De Cacao and habanero bitters, which bring a beautiful depth to the coffee flavor.
Ingredients
Directions
Shake all ingredients over ice, double strain into a cocktail glass, and garnish with a trio of espresso beans.
***
The beauty of the Espresso Martini is that it can take on many different expressions. In the wintertime, Buencamino likes to create bourbon and Cognac-based riffs. "I'll even add cinnamon syrup to it," he says.
Another of his tricks for the Espresso Martini is to make foam in an ISI whipper, either salted condensed milk foam or a salted caramel syrup with cream and then float that on the drink in a coupe glass.
Wilder still, he recently devised a batched Espresso Martini in a nitro keg, that can serve 15-20 people. But, he warns, getting a pint of Espresso for the full batch can be quite an effort if you're doing it at home one shot at a time. As with every iteration of the cocktail, however, it's all a matter of your preference.