8 Seriously Great Canned Cocktails To Bring To Your Next Party (Or Wherever)
These days, you can find to-go versions of your favorite drinks pretty much everywhere. Here are eight worth seeking out.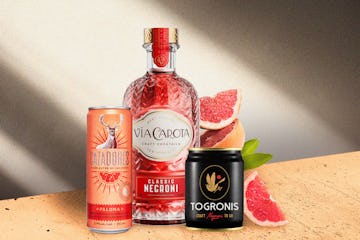 Emma Chao/Fatherly; Getty Images
We may receive a portion of sales if you purchase a product through a link in this article.
Not too long ago, if you wanted to bring your favorite cocktail to a campsite, concert, or party, you'd have to pack a flask, smuggle it in a purse, or volunteer for bartending duty. But thanks to the growing business of ready-to-drink cocktails (RTD), you can find elevated, to-go versions of everything from perfectly balanced Palomas and Old Fashioneds to more creative renditions of classic highballs at liquor stores, refreshment stands, and airplane beverage carts. Many of them deserve your attention.
By its simplest definition, an RTD is a cocktail in a can or a bottle. While there are many kinds of drink under this umbrella (wine coolers, hard seltzers, hard coffees, hard, well, everything) the most interesting — and fastest-growing category — is spirits-based RTDs, which packages quality versions of cocktails in your hand. Sales of spirits-based RTDs grew 58% last year according to the research company Nielseniq, and they're expected to eventually eclipse sales of hard seltzer, a category that shrank by 10% last year.
It's easy to understand why. The RTD category was already evolving beyond the hard seltzer craze when the pandemic hit, and canned cocktails became a way for people to get a taste of the craft cocktail bar experience at home. They were also a convenient way to have a portable cocktail party with friends when outdoor gatherings were preferable to indoor parties.
As new as the RTD trend may feel, it is not a new concept. "Canned or bottled cocktails have been around for a century," says Noah Rothbaum, head of spirits and cocktails for Flaviar, and co-host of the podcast, "Fix Me A Drink." In Italy, for example, the classic CampariSoda has been around since 1932.
Still, this category is more than just a hold-over of pandemic consumer behavior or us playing catch-up with Europe. Canned cocktails speak to our growing desire for products that are more premium, more tailored to our specific tastes and needs, and more transparent in terms of ingredients and sustainability. Consumers also have more control over how much alcohol they're consuming because the ABV percentage is clearly labeled.
Now, the RTD market is well-satured. Bespoke microbrands and global corporations are all trying their hands at premium grab-and-go drinks. So, it's important to be a discerning consumer because many are from brands you've never heard of but may be your new go-to. What makes a good cocktail in a bar is not always the same as what makes a good cocktail on a shelf. There are some considerations to make about what kinds of ingredients translate best from bar to RTD, and Rothbaum suggests a few criteria to focus on.
One, focus on options that lean more on their alcoholic ingredients. Highballs, for example, like Gin & Tonic, tend to work very well in a can because their main ingredients are alcohol and soda. More complicated drinks, especially those that involve a lot of fresh citrus, are tough to nail, he says, because it's difficult to get the citrus shelf stable.
Next, he says to focus on size. Is the volume on par with the volume of that drink if you were to order it in a bar? A canned RTD shouldn't be 12 ounces by default if the cocktail doesn't require that volume, or else the balance may be off. For this reason, you'll often see classic cocktails sold in small 100ml cans.
If you keep these criteria in mind, you'll find some truly great options. Speaking of which, here are eight excellent RTD cocktails that are all worth a taste. They range from classics like the Negroni and Old Fashioned to more adventuresome options like Bourbon Cream Soda and Bloody Mary made with jalapeño vodka.