6 Freezer Door Cocktails To Whip Up For Your Next Party (Or Any Time You Need A Drink)
Mix. Freeze. Pour. These build-in-a bottle cocktails are your new secret weapon.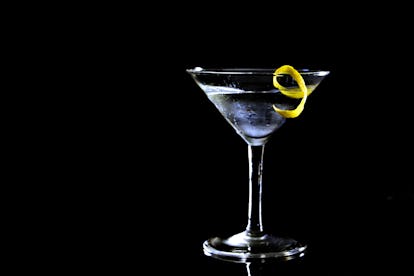 Getty
There's a time for shakers and stirrers and making a nice drink from scratch. A Saturday evening at home after a fun day with the kids. A poker night where you're, say, serving your buddies customized Old Fashioneds. But then there are other times when you don't want to be bothered by the motions and just want a well-made cocktail — an ice cold Martini or Negroni ready to be poured into your glass of choice. Sure, you could buy some bottled cocktails to have at the ready (There are some great options these days). Or you could build a batched cocktail in a bottle and stick it in your freezer. That way, you have a customized, ready-to-pour drink waiting right beside your ice cube tray. Such is the magic of freezer door cocktails.
In the simplest terms, a freezer door cocktail is any cocktail that is pre-made or -batched and has a high enough alcohol content to be stored in a freezer without freezing solid. The category — which is having a moment thanks to JM Hirsch's TikTok series for Milk Street — began as a bartender's shortcut, a way to provide guests more quickly with high-quality cocktails. They started bottling, either individually or in batches, certain spirits-focused cocktails to keep in the freezer so they could simply be poured in a chilled glass or rocks glass and garnished before serving. Perfect for the technique were cocktails like a Classic Martini, Manhattan, Negroni, and Old Fashioned that have enough alcohol — ideally 30% ABV or higher. And since their inception, the popularity, convenience, and versatility of freezer door cocktails have outgrown the reason they were invented in the first place.
Bartenders soon realized that freezer door cocktails offered more than just efficiency. First, the thick and viscous mouthfeel of a drink poured straight from the freezer tastes better for some drinks, particularly a Manhattan or Martini. They could also better control the dilution of a freezer door cocktail by pouring it over a single clear ice cube that won't water it down. Additionally, some ingredients like vermouth and bitters intensify in the freezer, and unique flavor could be achieved by adding small amounts of unexpected liqueurs. For convenience and moderation, adjust the portions and only drink a half cocktail without having to mix a half a cocktail. Simple.
The Secret To A Great Freezer Door Cocktail
Now, there are a few guidelines for making great freezer door cocktails. "People forget about dilution," says Keith Larry, Beverage Director at the Brooklyn restaurant Little Rascal, and a veteran bartender of the New York cocktail bar, Employees Only. Because a freezer door cocktail is not being stirred over ice, it lacks the water needed for balance that would normally come from the ice. "If there's no dilution, it's too boozy, so you can always measure 10% water into your batch if you're making a Martini," says Larry.
With cocktails generally served over ice, the ideal dilution is even more, about 20% water. "For cocktail served on the rocks, like a Negroni or Old Fashioned, no need to dilute but let them sit on ice before serving so they can get the 20% water they need for balance," write Tyson Buhler (Director of Food & Beverage, Gin & Luck) and Alex Day (COO of Gin & Luck and Co-Owner of Death & Co) in their book, Death & Co Welcome Home. They refer to the category as Freezer Bar cocktails and describe them as feeding "our (frequent) desire to have a quick, perfectly chilled drink."
"I don't add Angostura Bitters ahead of time," says Larry, because the bitters can become almost too intense in a freezer door cocktail, so he adds them just before serving. The Death & Co book authors recommend cutting the amount of bitters in half for a batched freezer door cocktail. Also important is leaving room for expansion in whatever bottle you're using: "Don't fill it to the cap," says Larry, "leave yourself a couple fingers at the top, and you can leave it in the freezer for as long as you want."
As for the bottle, you can use a regular 750ml wine or liquor bottle, or you can use smaller bottles that hold one or two cocktails. As long as it has a cap of some kind, any bottle is fair game.
Another cool aspect of freezer door cocktails is that they can be used as an ingredient in drinks with a lower alcohol content.
"One of the aspects I love about freezer cocktails is their adaptability," says Buhler, who feels that a Martini can sometimes be "a bit too much alcohol," so the batched freezer cocktail can be viewed as a base spirit. "Top with seltzer for a clean, herbal highball or even squeeze some fresh lemon and shake with a small amount of sugar for a very complex sour," he says. "It's a great way to experiment and gain a better understanding of balance in cocktails."
Alex Day likes to consistently employ two freezer bar tricks, one he calls "freezer bar dividends," and the other is batched infusions. For dividends, he always makes more than one serving and puts the leftovers in a bottle in the freezer, so it can be "pulled out if I want a second, saved for later, or [for] casual topping off if I'm sipping slowly." For infusions, he likes to pick seasonal ingredients to add a flavorsome twist to classic cocktails: "In early summer, when strawberries are at their peak in New England, my freezer is full of strawberry infused Negronis," he says, "And in winter, zests of Meyer lemon go into my Martinis."
Whether you want to stock them in your freezer before parties or go deep into the freezer cocktail game, the six cocktail recipes below are an excellent place to start.
6 Excellent Freezer Door Cocktails To Make
1. Death & Co's Freezer Bar Manhattan
This recipe comes from Death & Co Welcome Home, and includes a helpful up-scaling for a batch made in a 750ml bottle, and includes the necessary water for dilution. Another tip from the book: "A little Cointreau will add a bright pop to a Manhattan."
Ingredients
2 oz Rittenhouse rye whiskey ➝ 12 ounces
1 oz Carpano Antica Formula sweet vermouth ➝ 6 ounces
2 dashes Angostura bitters ➝ 6 dashes
3 ounces filtered water
Directions
Using a measuring cup, carefully measure all the ingredients and funnel into the bottle. Seal the bottle, turn it over a few times to mix the ingredients, and taste a small amount. Adjust the bitters as necessary (it may need a couple more dashes; remember that bitters will intensify in a larger batch, so always start with half the recipe's amount). Freeze for at least 3 hours (now's a good time to freeze your Nick & Nora glasses as well). When ready to serve, prepare your garnishes, then divide the batch among the glasses (about 4 ounces each) and garnish.
2. Flame of Love
This was the first freezer cocktail at Death & Co, an Old Hollywood classic, and has been on their menu in some form ever since. "Whether it's a Martini variation, or a batch of spirits and modifiers to be topped with seltzer for a highball, we've found it's just as valuable behind the bar as it is home," says Buhler.
Ingredients
2 ½ oz vodka
¾ oz fino sherry
2 dashes of orange bitters
Directions
Add 10% water to batch and serve in a chilled Nick & Nora or coupe with a flamed orange peel garnish.
3. Turin & Tonka by Keith Larry
Ingredients
2oz Michter's Rye
1 oz Tonka-bean-Infused Cocchi Vermouth di Torino
1/2 oz Grand Marnier
3 dashes Angostura Bitters
Directions
Combine all ingredients except for the bitters, and freeze. Once ready to serve, add the pre-batched mixture and the bitters to a mixing glass, then pour over a large ice cube in a rocks glass and garnish with a lemon twist.
4. Freezer Door Old Fashioned
Ingredients
2 oz rye or bourbon, like WhistlePig PiggyBack 100% Rye or Michter's Bourbon
1 ts demerara syrup
2 dashes of Angostura Bitters
1 dash of orange bitters
Directions
Serve over ice in a rocks glass and allow to rest a moment on ice for proper 20% dilution. A Death & Co tip is that adding ½ ounce of aged cachaça, such as Avuá amburana will add cinnamon spice to an Old Fashioned batch.
5. Freezer Door Negroni
Ingredients
1 oz gin, such as Sipsmith London Dry or Plymouth
1 oz sweet vermouth, such as Cocchi Di Torino or Carpano Antica Formula
1 oz Campari
Directions
Add 10% water to the batch and serve over a single cube in a rocks glass with an orange twist.
Another trick from Death & Co book is to add ½ ounce of crème de cacao and a pinch of salt to a Negroni batch for, where "The chocolatey notes hide just under Campari's bitterness, making for a pleasantly rich after-dinner digestif, while the salt helps to tamp down some of the bitterness and accentuates the chocolate flavors."
6. Freezer Door Martini
Ingredients
2 oz of gin, such as The Botanist or Drumshanbo Gunpowder Irish Gin
1 oz Dolin dry vermouth
1 dash of orange bitters
Directions
Serve in a chilled coupe, Martini, or Nick & Nora glass with your choice of garnish.
Add 10% water to the batch so it won't be too strong served straight up. A Death & Co tip is to add one ounce of a flavorful liqueur, such as pear or peach liqueur, to a 750ml Martini batch. "The small addition will add a subtle new layer of complexity."
This article was originally published on