15 Fitness Retreats That Redefine Vacation
Turn off, drink, eat, and do nothing? Not here. These 15 retreats offer a more transformative travel experience.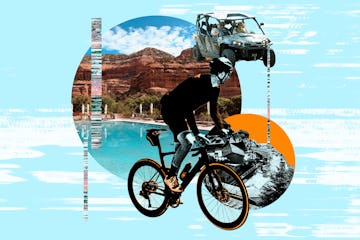 I took my first fitness-focused vacation almost 15 years ago. Having just picked up surfing a few months earlier, I felt a real urgency to learn the sport. So instead of spending time off on poolside daiquiris at some resort in the Bahamas (tempting), I booked a 12-day getaway at Witch's Rock Surf Camp in Costa Rica and signed up for the full battery of lessons and tours. I left the United States soft, pale, and stressed, but over the course of that almost two-week stay, I underwent a radical change. I ate healthy foods, barely drank, went to bed early, and didn't miss one swell at first light. I practiced. I found discipline. I developed new skills. I transformed.
I returned from the vacation as one wants to return: fit, relaxed, and somehow more whole. I was a better surfer, sure, but more importantly a better husband, a better dad, a better version of myself. In the years since, all of my travel, whether it's a family vacation, a solo getaway, or a work trip, has been organized around access to wellness, mindfulness, and fitness opportunities.
The list below represents some version of such a dream vacation. Hotels, retreats, and experiences that inspire by bringing you closer to nature, teaching you a new skill, or simply delivering the delicious dopamine buzz that only an epic workout and red hot sauna can supply. Most of these are not vacations to bring the kids on because it is impractical. Don't let this stop you. These vacations are here for your health, your growth, your adventure. (When you get back, the family will most definitely benefit from your self-care.) So allow this to be a springboard for a fitness-focused adventure of your own.
Mountain Trek Resort in British Columbia stands out among other resorts for its rigor. Mountain Trek touts its exclusive weeklong and two-weeklong wellness retreats as "the most transformative health experience in the world." Really, it's a health rehab center designed to change body composition, decrease stress, and improve sleep and mental health by boosting your metabolism, balancing critical hormones like cortisol, reducing inflammation, and modulating your endocrine and nervous systems. The day's activities begin with a yoga class. After breakfast, there's a three- to four-hour Nordic hike. A post-ramble hot tub sesh is followed by an hourlong "Lifestyle Talk" on topics like fitness, stress, and sleep. There's also an hourlong fitness class in the early evening, followed by quality time in the spa. Meals are designed by a nutritionist and a chef who work together to create healthy menus without any of the inflammatory stuff like sugar, booze (sorry), starch, or processed foods.
Trek doesn't just make great bicycles: The Madison, Wisconsin-based company also provides expertly designed bike tours complete with a sag wagon that follows you lest you get lost, your bike fails, or you don't feel up to finishing the ride. You feel like a pro cyclist, without any of the pressure. Trek's menu of vacations is incredibly diverse — from grueling six-day climbing tours through Italy's Dolomites to more casual three-day jaunts through California wine country. There are tours of Kentucky's Bourbon Trail and intensive cycling and spectating experiences for the Tour de France, offering VIP access to Trek's cycling team and opportunities to ride the same course Tour riders follow as they chase the yellow jersey. With literally hundreds of vacation options, there are routes for cyclists of every level (yes, e-bikes are an option). Best of all, there's no worrying about trying to transport your personal bike as you get to try out the latest and greatest bike models from one of the biggest names in cycling. While riding may be the day's primary activity, there are also daily opportunities to relax and reset: beach bonfires, cocktail hours, and elegant dinners. Hotel accommodations, all arranged by Trek, are consistently top-notch.
Three bucket-list European Trek Travel destinations:
Provence. Editor-in-Chief Tyghe Trimble went on this one as a newlywed and could think of no better way to celebrate marriage than grinding out the Tour de France's infamous Mont Ventoux.
Ireland. Rain be damned, Ireland is for cyclists. The Ring of Kerry alone is a bucket-list cycling destination.
Tuscany. Trek Travel isn't just for putting the wheels to the road — trips like this one showcase the luxurious meals and hotels (all booked for you, so you need only focus on the next leg or your current glass of wine).
During the winter months, Sundance, Robert Redford's well-appointed mountain resort in Utah, is home to a variety of winter sports. In addition to the venues for downhill skiing and snowboarding, the resort (about 43 minutes south of Park City) has more than 9 miles of groomed cross-country skiing tracks and 6 miles of snowshoeing trails. During the summer months, Sundance has more than 25 miles of single-track, ski-lift-serviced mountain biking trails, as well as 10-plus miles of alpine hiking trails with varied terrain and stunning views. Also on the premises, you'll find a 24-hour fitness center and a variety of wellness classes all tucked into the hotel with 400-square-foot standard hotel rooms or besides six-bedroom Mountain Homes.
For A Nonstop Wellness Vacation: Sonora Resort
Located smack in the middle of a lush Pacific rainforest, Sonora Resort gives visitors the opportunity for a five-star wilderness adventure. Facilities on the grounds of the resort are first class — indoor tennis and basketball, a putting green, a fitness room equipped for serious athletes, trout ponds for catch and release fly fishing (lessons are available), and meditation areas. The spa has a variety of experiences — sauna, steam, cool and warm mineral pools, and Swiss shower. But Sonora Resort also makes good use of the incredible natural habitat surrounding the resort. A 3-mile hike through the woods down an old logging road leads to Lake Florence, where guests can canoe, stand-up paddle, and swim.
Located in way-up-there northern Vermont, Craftsbury Outdoor Center is the sort of training facility that attracts Olympic jocks who want to improve their rowing stroke. But Craftsbury also doubles as a vacation destination offering instruction for athletes of all levels interested in learning or improving their stroke cycle. From spring through autumn, Craftsbury's rowing center offers six-, four-, and three-day rowing camps. In addition to on-water sessions in the pristine 2-milelong pond, athletes learn from video review sessions as well as group and one-on-one instruction as well as lectures from a murderer's row of world-class instructors, all former Olympians, world champs, and college coaches. Off the water, Craftsbury has yoga and fitness opportunities in a state-of-the-art gym stocked with Concept 2 rowers. Recovery work and farm-to-table nutrition are also a priority. Various lodging options are available — everything from a traditional dormitory environment to a private cabin or lakeside cottage. In addition to rowing, Craftsbury is home to similar experiences for athletes interested in Nordic skiing, biathlon, and mountain biking.
Get ready to row with these three awesome at-home machines.
Aviron. This is Senior Editor Billy Brown's go-to cardio machine for early morning workouts, thanks to its ability to stream services like Amazon Prime Video, Netflix, and Disney+ to its monitor. Nothing like putting down a season of Reacher while you burn off last night's dinner.
Ergatta. This rower might be more at home in your living room than your garage, thanks to the cherrywood frame and sleek styling that make it look more like a piece of furniture than an exercise machine.
Peloton. It's got all the features that Peloton is known for: live rowing classes and leaderboards, as well as on-floor workouts that cover strength and flexibility. Plus, form-specific features and metrics help you dial in your rowing form.
For Active Recovery From Life: Nekupe
Situated on a stunning 2,400-acre nature preserve in the shadow of Nicaragua's Mombacho Volcano, this luxury sporting resort provides ample opportunity for active vacationing, especially hiking, mountain biking, tennis, running, ropes course, sport shooting (target and clay pigeon), and weights and cardio in a state-of-the-art facility with panoramic views. For novices, private instructors are at your disposal for all of it, and surf excursions are easily organized. It's not all hustle, though: Nekupe excels in the realm of guest rejuvenation. A stone reflexology bridge leads the way to a world-class spa, expert yogis offer a plethora of flow styles and meditation classes, and the kitchen prepares healthy cuisine from fruits and vegetables harvested from the resort's on-site garden.
For The Fitness Class Junkie: Active Escapes
Active Escapes' intense, six-daylong fitness retreats take place in beautiful beach locations everywhere from Barbados to Bali. AE specializes in up-tempo boot camp-style sweat sessions — lots of army crawls, tire flips, and kettlebell swings. While the other experiences on our fitness vacation list feature exclusive, one-on-one experiences with private instructors, the vibe at Active Escapes is centered around high-energy group fitness like relay races and obstacle courses. The vibe is social — work hard, play hard. AE camps in places like the Gold Coast and the Maldives offer ample opportunity to work out and play in the water with swimming, stand-up paddle boarding, and surfing. The accommodations vary from session to session, but it's hard to go wrong: They range anywhere from luxury apartments to 123-foot yachts, depending on your location.
Three "Don't Miss" Events At Active Escapes
Dynamic Stability and Balance Course (Bali Location): One of the fitness-adjacent outings available is a ropes course that helps build focus, stability, and body control. Plus, it's hella fun.
On-The-Water Yoga (Maldives Location): How can you make yoga even more relaxing? Doing it on a wooden platform over the water, then going for a swim among the location's blue lagoons and coral reefs.
Obstacle Course Race (Whitsundays Location): Get fitter without feeling like you're working out. This race will have you running, jumping, climbing, and most likely grinning as you compete with your fellow guests.
For Napa-Style Decompression: Meadowood
If the notion of a fitness getaway located smack in the middle of the North American capital of wine and all things butter-poached seems counter-intuitive, think again. Meadowood is a secluded jewel of a resort deep in the woods of Napa Valley. The sort of idyllic hideaway spot that an NBA All-Star heads to for a few weeks of off-season decompression, it's also perfect for families. If you're looking to get fit, Meadow offers a diverse menu of fitness options — a well-equipped fitness room (think Concept 2 Ski Erg, TRX stations, and plenty of dumbbells), a 25-meter lap pool, five beautifully maintained tennis courts with a staff of club pros who can provide one-on-one instruction, and challenging hillside trails for hiking and running. Meadowood also provides a variety of daily fitness classes, everything from Tai Chi to boot camp classes (monthly schedules are available for viewing on the website). This being Napa, of course, Meadowood has wine education, first-rate cocktails, and access to knock- your-socks-off-chow. But at least you'll have earned it.
A week at IMG Academy's Adult Tennis Camp is a different kind of vacation. Yes, you will need to ask your boss for time off to attend the camp. And yes, there are palm trees and sunshine and beautiful white sand beaches around Bradenton, Florida, where IMG is located. And yes, tennis is really fun and a rewarding way to spend a few days. But IMG is not the the resort you go to for pina coladas. It's where the world's top athletes go to train. IMG is a mission, and that mission is mashing tennis balls, thousands of them, and receiving detailed instruction from the world's top coaches on footwork, court strategy, serve technique, ground strokes, nutrition, and the mental game. Instead of forgetting all of your worldly problems, you'll do video analysis, dwelling on your mistakes just enough to learn from them. Instead of drink vouchers, the all-inclusive packages at IMG include a TheraGun to massage your aching muscles. And for your recovery, IMG's campus features an upscale hotel with a state-of-the-art fitness center, swimming pool, and spa.
The Poconos may be the most underrated adventure destination in the United States. The region is pristine — woods, mountains, lakes — and less than two hours from New York City or Philadelphia. The Lodge at Woodloch, located deep in the woods northeast of Scranton, is an exceptional destination for a rejuvenating wellness escape. The Lodge is home to a huge menu of fitness activities, most notably a packed schedule of high-intensity fitness classes from TRX to aquatic movement. Yoga, Pilates, tai chi, chi gong, and vibrational sound therapy are all available as well. The Lodge is loaded with opportunities to get out in nature — biking, hiking, stand-up paddleboarding, kayaking, climbing, outdoor exploration, archery, disc golf, and shooting. The culinary program is directed toward serving guests fresh, clean food, and the rooms are decked out, so you can rest as hard as you play.
Based in the majestic Blue Ridge Mountains of North Carolina, Zap Endurance gives guests affordable three-day and weeklong training camps for runners of all levels. A day at Zap camp typically involves a midlength or long run through the hills of Moses H. Cone Memorial Park, which has more than 25 miles of carriage roads at 3,500 to 4,000 feet above sea level. There's yoga, strength and mobility training, and coach-guided video analysis sessions. There are lectures on nutrition for performance, the mental aspects of running, race strategy, and the particulars of running shoes. Sprinkled in are trips to the nearby town of Blowing Rock shopping, some zip lining, and socializing. Guests board in rustic condos on the campus of Chetola Resort, a massive sporting facility featuring archery and sport shooting ranges.
Three Reasons For Anyone To Go To Running Camp
You have the wrong equipment. Video analysis and coaching can point you to the shoes you need for performance.
You're about to get injured. The surest way to predict injury is to find an imbalance in body strength — which shows itself in your gait, flexibility, and strength.
Your goals are all wrong. Maybe you have designs on a marathon but are built for middle distance. Instead of injuring yourself in the middle of the pack at Mile 22, wouldn't you want to smoke the competition in a 5K?
For A More Active Spa Vacation: Cal-A-Vie
Located in the hills northeast of San Diego, Cal-a-Vie is a super-lux fitness and wellness retreat offering three-, four-, and seven-day packages. It's the sort of place where if you have to ask how much it costs, you probably can't afford it. The grounds are reminiscent of a small Provencal village with its windmill, sculpted topiaries, a stone barn, and Mediterranean-style villas. The experience is comprehensive: Staffers use a device called the "Bod Pod" to provide comprehensive fitness evaluations, sniffing out weaknesses and vulnerabilities, which are then addressed by the resort's plethora of fitness options — yoga classes, Pilates training, personal training sessions, aerobics, boxing, swimming, and aquatic fitness. If you like sweating with others, there are small group TRX classes, and circuit training is available. Cal-a-Vie also has a wide variety of tests to determine food sensitivities, hormone balance, gut health, and other nutrition-related factors.
The tiny Costa Rican city of Tamarindo is really the birthplace of modern surf travel. With its dependable off-shore winds and rippable lefts, this surf zone so mesmerized Endless Summer star Robert August that he decided to make the beachside town his home. There are dozens of beach hotels and surf camps in the area, but nobody does it better than Witch's Rock. WRSC provides easy access to a wide variety of waves types — from the beginner-friendly breakers in front of the hotel to tube riding opportunities offered in the nearby Tamarindo River mouth, to the thumping A-frames that break a few miles up the beach Playa Grande. Witch's Rock also has expert-guided boat and bus trips based on daily wind, tidal, and swell conditions. The board rentals are top-notch, and the accommodations are solid. The hotel has its own brewery, and the kitchen has the best grub in town. If you're lucky, you'll even see Robert August, who still lives locally, eating sushi at the bar.
Nestled in secluded Boynton Canyon about 8 miles from downtown Sedona, Arizona's Enchantment Resort may be one of the most luxurious travel accommodations in the United States. Health and wellness are at the very center of the Enchantment experience. The resort is home to all the sporty stuff you might expect: a fully decked-out fitness room, championship golf course, tennis and pickle ball courts, packed daily fitness schedule, and on-call personal coaches for yoga, Pilates, and strength and fitness. However, Enchantment stands out because it puts Sedona's natural wonders in the front and center of the guest experience with guided hikes and mountain biking sessions over miles upon miles of wilderness trails. It also has private excursions to Granite Dells, a rock climbing hub outside Prescott, Arizona, with ascents for every skill level.
BodyHoliday St. Lucia on Cariblue Beach is a fitness-focused all-inclusive resort on the island of St. Lucia. BodyHoliday is to fitness what a seven-night cruise is to buffet-based gluttony. At BodyHoliday, you are surrounded by fitness opportunities: The menu of small group boot camp, dance, toning, and spin classes is endless. There's also golf, tennis, archery, and volleyball. You can even learn sailing or wind sailing or scuba during your stay. To unwind, there's yoga, tai chi, and a spa with an epic menu of treatments and massages. And the accommodations are posh — think oceanfront rooms with pristine workout facilities and a nutritionist-curated menu to hep you fuel up for the next workout.