The Ideal Methods For Keeping Weed From Kids
Pot pros and advocates discuss the best methods and strategies for keeping marijuana from kids.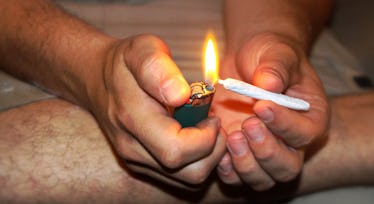 Photo credit: halseike via VisualHunt.com / CC BY
As marijuana legalization rolls out across the United States, more parents are smoking and more parents are facing the question of how to make sure their children won't be exposed to weed. Those concerns are justified: Studies have shown spikes in children's exposure in states where the sale of marijuana has been legalized. Exposure, in most cases, actually means ingestion. Kids are mistaking legal nugs for snacks, which is a very good reason to either keep it out of the house or secure it in out-of-reach childproof containers. But that's not as simple as it sounds. Kids find stuff. A more sophisticated strategy is needed.
"For me personally, I never hid my cannabis use from my kid," says Anna Diaz, Secretary and founding member of the advocacy organization Parents 4 Pot. "Just like you keep alcohol in the alcohol cabinet, I had a weed cabinet and he wasn't allowed to go in there. And as far as I know he never did."
Diaz advocates the "high shelf" strategy — while acknowledging it's a bit of a pain for parents — and destigmatizing weed. But she acknowledges that her approach isn't going to be universal. Some children don't respect boundaries and some parents are understandably uncomfortable with exposing their children to their own vices. For people in those camps, Diaz has a portable suggestion: Rip-proof lockable bags and packs developed for insulin-dependent diabetics. These sort of bags cost as little at $20 and look totally innocuous.
Nickia Delaware of Collective Awakenings marijuana dispensary in Portland, Oregon, says many of her customers who are also parents demand a slightly more stylish and way more Swedish option.
"A lot of people opt for a small IKEA medicine cabinet that is lockable with a set of keys," she says. The 12-inch by 12-inch mirrored cabinet is called the Gunnern, which actually has no translation because IKEA is just trolling people now. It's made of lacquered steel and features two shelves with lips — a nice touch for those concerned about their vape pens.
And while you can install a Gunnern in a bathroom away from common areas, the dank smells and easy access can become a problem when it comes to keeping weed in communal zones like living rooms or family rooms. Aaron Nelson, Director of Actualization for 2020 Solutions in Bellingham, Washington, understands the struggle. "While hiding your stash is a good start," he explains. "Keeping it under lock and key (or combination) is your best defense."
Nelson points to a popular product in his shop: soft boxes from the brilliantly named Stash Logix. "It's an innovative product," he says. "Not only does it mask the scent, it also provides locking security in a padded case."
For those who prefer a little subterfuge and misdirection. The internet is full of options that are less about an innovative stash box on your bookshelf and more about hidden compartments in your walls. Popular options include lockable false wall outlets, or the old wall safe hidden by a painting. But those solutions feel more playful than actually useful and, if found out, only serve to increase the allure of the weed itself.
Still, they represent a needed step in the right direction. Though children who consume marijuana typically only suffer from dizziness, tiredness, and mood fluctuation, the increasing number of cases represents a very minor health crisis.
"We found that caregivers were not keeping their marijuana safe and not storing it appropriately," says Dr. Genie Roosevelt, a researcher who co-authored a 2014 study looking at accidental pot exposure in children. She notes that's why child-resistant packaging has become a norm in most legal states. And, no, she doesn't see weed itself as the core problem — modern homes are often full of more dangerous medications — just the casual approach to storage.
As with most things, a little planning and a responsible approach can protect kids. It's mostly a matter of normalizing weed, thinking of it as part of the home ecosystem, now that it's being legalized.
This article was originally published on