For Children Across The Nation, Racism Is On The Rise
Across the nation, children of color — especially Black and Indigenous children — are experiencing increased levels of racism, according to trends in data.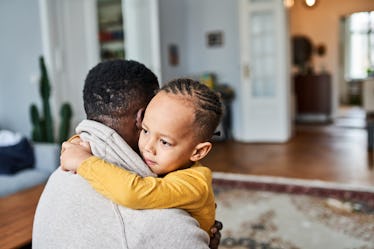 HRAUN/Getty
Across the nation, children of color are experiencing increased levels of racism, according to new trends in data. From 2016 to 2020, the percentage of children who reported experiencing racist behaviors grew by 2.6 percentage points on average, the research suggests. The kids bearing the largest brunt of the discriminatory uptick were Indigenous and Black — and the trend is an extremely concerning surprise to experts.
"These numbers should continue to decrease over time, not increase, so regardless of the size of the increase, we are heading in the wrong direction," says Micah Hartwell, Ph.D., a lead author of the study, published in the Journal of Osteopathic Medicine in November 2022, and clinical professor of psychiatry and behavioral sciences at the Oklahoma State University College of Osteopathic Medicine at the Cherokee Nation.
For the study, Hartwell's team used the U.S. National Survey of Children's Health, which included up to 50,000 children under age 18, each year, from 2016 to 2020. They zeroed in on what parents answered when it came to this question: "To the best of your knowledge, has this child ever experienced any of the following? 'Treated or judged unfairly because of their race or ethnic group.'"
The survey results largely showed that many students did indeed feel treated or judged unfairly because of their race or ethnicity. And taken with historical data, it's a clear sign that racism against children in minority racial groups has increased significantly. In 2016, about 6.7% of parents of color said their children experienced racism. In 2020, that number rose to 9.3%.
Children of some races experience more racism than others, according to the data. Indigenous and Black children were among the most targeted. Indigenous children faced an increase in racism from 10.8% in 2016 to 15.7% in 2020. Black children saw an increase from 9.69% in 2018 to 15.04% in 2020. That means almost a whopping 1 in 6 children who were Indigenous or Black reported to their parents that they had experienced discrimination based on their race or ethnicity in 2020.
1 in 6
The number of Indigenous and Black children who reported to their parents that they had experienced discrimination based on their race or ethnicity in 2020.
Hartwell contends that an uptick in racism among younger generations is probably due to an increase in racism in mainstream media. As examples, Hartwell points to "having public figures using openly racist rhetoric…police brutality towards Black men and women…backlash towards critical race theory…and the sensationalization of those stories being on media every night." The scholars also theorize that Indigenous children are often targets of race bias because of how Indigenous culture is portrayed as a costume, and the way the Indigenous experience is misrepresented by and excluded from mainstream media.
"What children are exposed to, they can pick up and repeat," Hartwell says. "If they see race bias in the media, especially continually and repeatedly, they're going to pick up on that."
Research shows that children are remarkably efficient at understanding and implementing the social hierarchies they observe, and this can in turn deeply influence the development of self-esteem in children of color.
Any form of discrimination and racism experienced during childhood can have profound implications on development. "When children experience these events, they can have prolonged stress because of them, especially if they're having to face this adversity every day," says one of the lead authors, Amy Hendrix-Dicken, a graduate student at the University of Oklahoma Tulsa School of Community Medicine. In clinical terms, this is often referred to as toxic stress syndrome, which can lead to poor health outcomes such as a weakened immune system and increased risk of mental health issues.
These mental health repercussions can lead to tragic outcomes: The rate of teenagers (15-19 years of age) who die by suicide is five times higher for Indigenous girls and two times higher for Indigenous boys compared to their white peers, according to 2018-19 data from the Office of Minority Health. Black children ages 5 to 12 are nearly twice as likely to die by suicide compared to white children their age.
Three Ways To Fight The Problem — And Raise An Anti-Racist
The new data calls for greater attention to how parents, educators, and professionals talk to children about race and racism. "It's a difficult topic to address, but one that we need to," Hendrix-Dicken says. For kids to stop perpetuating racism, they need to be taught an anti-racist approach.
The first step to raising an anti-racist lies in educating ourselves, Hendrix-Dicken says. That means reflecting on your own personal biases, then actively working to learn more about how racism plays out — in history, in education, and in everyday life — and what part you have in it. Hendrix-Dicken recommends reading, Ibram X. Kendi's "How to be an Antiracist," as there are also versions for infants and teens.
The second step is to "be comfortable with being uncomfortable," Hendrix-Dicken says. This means learning to be comfortable with all of the new information you're learning throughout the process, but also sitting with the discomfort that may come with discussions of racism and not shying away from it.
Third, actively address topics of racism and anti-racism with your children at all steps of the way. There's no one-size-fits-all procedure to tackling the topic, but it's crucial to do so. Make sure when you talk to your children about racism, you're talking to them in a manner that is approachable and age-appropriate.
"The conversation is going to look different for everyone," says Hendrix-Dicken. Maybe it's sitting down and watching an episode of Sesame Street and answering your child's questions afterward, she says, or reading children's books telling the stories of people from minority communities.
One of her preferred resources, from Children's Health of Orange County, suggests giving simple facts with basic terms, asking open-ended questions to allow your child to process their feelings, validating said feelings, and closing the conversation with examples of hope — like talking about leaders who are working to fight racism.
Some of her other favorite resources include Healthy Children Organisation's list of books to read to help your children learn about racism, as well as PBS's list of books, shows, and activities.
"There's a lot of flexibility for parents to approach the topic," Hendrix-Dicken says.