Why a Coronavirus Vaccine for Kids Probably Won't Be Here Until Next Fall
That's a problem for getting kids back in school.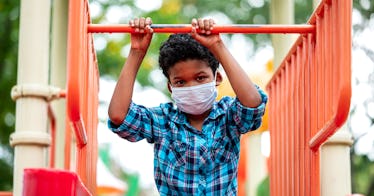 With fingers crossed, the country is waiting for a COVID-19 vaccine so we can return to some degree of normal. Public health officials have repeatedly said to expect a vaccine by the end of 2020 or early next year. But kids won't be able to take the same vaccine as grown-ups, and no companies in the U.S. have started testing a coronavirus vaccine on children.
"Right now I'm pretty worried that we won't have a vaccine available for kids by the start of next school year," Evan Anderson, a pediatrician at Children's Healthcare of Atlanta and a professor at the Emory University School of Medicine, told the New York Times. It may not be safe for children to return to school until a vaccine is available for their age group.
Children are not miniature grown-ups, and their bodies can respond differently to vaccines, which is why they need their own trials. A mild inflammatory side effect in adults can lead to trouble in small children's bodies, the Times reports. Manufacturers also need to figure out what doses are safest and most effective for children. For example, kids need larger doses of pertussis vaccines but smaller doses of hepatitis B vaccines.
There are currently 10 vaccines being tested in late-stage clinical trials globally, but none in the U.S. are including children. As of mid-August, only one vaccine was being tested on kids, in a phase 2/3 trial of AstraZeneca's vaccine at the University of Oxford.
From the time companies start testing a vaccine on kids, it could take more than a year before it's approved, according to the Times. First, researchers must write a protocol for their trials and get the stamp of approval from the FDA. Then they need to recruit participants, including getting parental consent. This can take several months.
Once the trials are off the ground, only small numbers of children will be able to participate in the initial safety stages, in which they are given low doses of the vaccine. After observation, scientists will increase those numbers to the hundreds and wait about two more months for monitoring. Only then would the child volunteers be able to get a higher dose. The trials will start with older kids, then include those between the ages of three and eight, and then, if all goes well, those under the age of three.
Anderson says that trials for children should have started over the summer as soon as vaccines passed phase 2. But other experts say it's best to hold off until we have phase 3 results back with no signs of severe complications. "We don't know which one will make it through," Kristin Oliver, a pediatrician and vaccine specialist at the Icahn School of Medicine at Mount Sinai, told the Times. "I'm super excited about a safe and effective vaccine, but I keep my excitement in check."
Kids are generally at lower risk of severe COVID-19 complications than adults, so it makes sense that the younger generation hasn't been the priority. But that does create an issue for getting kids back in school. "The way herd immunity works, it's all about your local group," Susan Coffin, an infectious disease physician at the Children's Hospital of Philadelphia, told Fatherly. Unvaccinated children in a class could transmit the disease to each other, so if we have a vaccine for adults but not children next school year, "there may not be a big difference between where we are now."