When Will the COVID Vaccine for Kids Under 5 Be Available?
Moderna and Pfizer are hoping to file for authorization soon.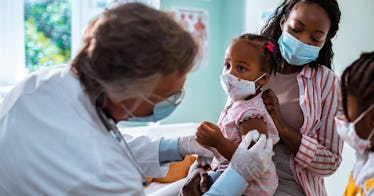 Marko Geber/Getty
While health officials debate the efficacy and need for additional COVID vaccine boosters for adults and older children, one group is still hanging out in un-vaxxed limbo. Children and babies aged 6 months to 5 years are the only group remaining without an authorized vaccine, and some parents are fed up with the delay of the COVID vaccine for kids under 5 with the specter of the COVID-19 pandemic over their kids' heads.
Although we occasionally hear rumblings from Big Pharma about clinical trials and efficacy ratings, at present no vaccine-maker has moved beyond trials and into filing for approval. That may not be the case for long. If you're waiting for your child's COVID vaccine, here's what you need to know.
When Will the COVID Vaccine for Kids Under 5 Be Available?
Moderna has announced that it plans to file for emergency use authorization of its under 5 vaccine by the end of April, according to Reuters. It could take several weeks for the FDA to review the application. Clinical trials showed that the two-dose, 25 microgram vaccine reduced symptomatic cases of COVID in children aged 6 to 24 months by 43.7%, and by 35.7% in kids aged 2 to 6 years. Those numbers fall short of the 50% efficacy threshold the FDA set for adult vaccine approval. However, Moderna representatives say it's enough to proceed with the approval process.
Pfizer is aiming to have its COVID vaccine available to children under 5 by June. The company announced in December that it would be seeking authorization for its two-dose, three microgram COVID vaccine for children under 5. But after trials showed limited effectiveness against the Omicron variant in kids aged 2 to 5 years, the company backtracked on its plans. The FDA is requiring data on the efficacy of a third dose before it will consider approval.
So what does that mean in terms of a timeline? Both Pfizer and Moderna hope to have a shot at FDA authorization before the summer travel season begins. Whether that is feasible remains to be seen.
What Are the Side Effects for Children Under 5?
Data on side effects specifically for babies and toddlers is difficult to come by. However, experts expect that side effects for young kids are similar to those experienced by older children. According to the Centers for Disease Control and Prevention, the most common side effects in children aged 5 to 11 are headache, lethargy, and pain at the injection site. These side effects are generally short-lived and don't impact day-to-day life.
For any pediatric vaccine, there is a risk of allergic reactions and anaphylactic shock. Additionally, the Pfizer and Moderna vaccines have been linked to myocarditis, or inflammation of the heart, mostly in adolescent and young adult men and typically within a week of the second dose. This already rare side effect is expected to be even rarer in young kids.
The Bottom Line on the Under 5 COVID Vaccine
Regulators are proceeding with caution on vaccine authorization for kids under 5. "We at FDA really understand the urgency that people feel about wanting to get the youngest children vaccinated. We also understand that this is the age range when people are most concerned about potential side effects and the potential safety of vaccines," Peter Marks, a vaccine official for the FDA, recently said in a media call.
With young kids still ineligible for vaccination, mask mandates are dropping, including on public transportation. Meanwhile, COVID numbers are creeping up again throughout much of the U.S. And although young children are less likely to develop a serious COVID infection than adults, young kids may be less likely to properly wear a mask, and kids aged 2 and under are not recommended to wear masks. Fortunately, because of high levels of immunity conferred by vaccination and the Omicron wave, experts don't expect we will reach the staggering numbers of recent surges.
Parents are tired of waiting for protection for their young children, and many feel as though they've been forgotten or abandoned in the rush to vaccinate older children, teens, and adults. Unfortunately, they will have to wait a little longer for a vaccine, but all signs point to good news on that front in the next few months.
This article was originally published on