The Delta Variant: Everything Parents Need to Know About the COVID Mutation
What parents (and kids) need to know about the worrisome and widespread variant.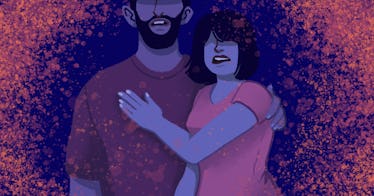 Joy Velasco for Fatherly
Just when it seemed like the end of the COVID-19 pandemic in the U.S., everything went Delta. When it comes to this COVID variant, there's a lot to chew on: The Delta variant is more transmissible than any other coronavirus strain yet. And its emergence in the States is poorly timed with mask mandates dropping and schools opening up in person. Add this to the fact that kids under 12 are still unable to get the COVID vaccine and, yes, you have our attention.
But is it time to panic? In a word, no. While it is more transmissible, vaccines protect against the variant, and it does not seem to have changed the way COVID impacts children — which is to say, usually mildly. That's a lot to unpack, so let's get into it. Here's everything parents need to know about the Delta variant.
What Is the Delta Variant?
Delta is the coronavirus variant that was first identified in India, where it wreaked havoc before spreading to the UK and the rest of the world. It's one of the main reasons COVID rates are rising in the U.S., where it's now the cause of the vast majority of new cases.
Delta is driving an exponential increase in cases in the U.S., particularly in under-vaccinated areas. In Florida in late July, more people were hospitalized with COVID than they were at at any other point in the pandemic, according to the COVID Data Dispatch. In late July, hospitalizations in Texas were up 300 percent compared to late June. But the impact of Delta is much less severe in well-vaccinated areas.
Does the Delta Variant Spread Faster or Differently?
The Delta variant is highly contagious. Experts think that it's twice as transmissible as the coronavirus that started the pandemic and 40 to 60 percent more transmissible than the Alpha variant. It's likely the most transmissible variant yet.
When indoors and without a mask, it only takes a second for one person to infect another with Delta, experts say. Note that being outdoors is much safer, though it's unclear at this point how much when it comes to this variant. Leaked CDC documents recently revealed that Delta is as contagious as the chickenpox, although outside experts have been skeptical about this comparison.
What does this mean in real-world terms? Here's one (terrifying) example: A CCTV camera in Australia documented two people passing each other briefly in a mall. One of the people infected the other despite only sharing airspace for a few seconds, genetic analysis confirmed. This situation is probably unusual, but it highlights just how transmissible Delta can be.
Is the Delta Variant Deadlier?
There's not enough evidence yet to know whether the Delta variant kills more people. However, a large study in Scotland found that Delta leads to hospitalization at twice the rate of the Alpha variant, and an even larger study confirmed this. This suggests that it may cause more severe disease, but researchers can't be certain yet.
Some experts are ready to make the call. "The evidence seems to be tipping that [Delta's] certainly causing more severe illness in children, due to the numbers of kids being hospitalized, more so than we'd ever seen previously during the pandemic," Stanley Spinner, MD, Chief Medical Officer and Vice President of Texas Children's Pediatrics and Texas Children's Urgent Care, told Fatherly.
But even if Delta turns out not to be more deadly, it can still cause issues because it will get more people sick, leading to overcrowded hospitals. About one in four ICUs are at least 95 percent full, according to the New York Times.
Do the COVID Vaccines Stop Delta?
Vaccinated adults are becoming more and more concerned about breakthrough infections as the Delta variant spreads. But the available evidence supports that the vaccines are effective at stopping infection and severe disease from Delta. However, they're not as effective as they were at protecting against other coronavirus variants.
The Pfizer vaccine is 88 percent effective against symptomatic infection from the Delta variant and 96 percent effective at preventing severe disease. Moderna's vaccine is 72 percent effective at preventing symptomatic disease and 96 percent effective against severe disease. Still, the Scottish researchers found that the Pfizer and AstraZeneca vaccines are less effective against Delta than they are against Alpha.
The Johnson & Johnson vaccine is 85 percent effective against severe disease caused by the Delta variant. However, the J&J vaccine is much less effective against Delta than compared to the original coronavirus, according to a new pre-print study that hasn't yet been peer-reviewed and used tests on blood samples, not on real people.
In terms of hospitalizations, there is no meaningful difference in the risk between the Alpha and Delta variants for a vaccinated person. The Pfizer vaccine is 96 percent effective at preventing hospitalization, according to a pre-print study that has not yet been peer-reviewed. This suggests that it's effective at protecting against severe disease, and not just overall infection.
So how many fully vaccinated people are getting breakthrough infections? Not many, according to a Kaiser Family Foundation analysis of COVID data from some U.S. states. "The data reported from these states indicate that breakthrough cases, hospitalizations, and deaths are extremely rare events among those who are fully vaccinated against COVID-19," according to the foundation. "The rate of breakthrough cases reported among those fully vaccinated is well below 1% in all reporting states, ranging from 0.01% in Connecticut to 0.29% in Alaska."
What Are the Experts Saying About the Delta Variant?
"We should think about the Delta variant as the 2020 version of COVID-19 on steroids," Andy Slavitt, a former senior adviser to Joe Biden's COVID Response Team, told CNN. "Fortunately, unlike 2020, we actually have a tool that stops the Delta variant in its tracks: It's called vaccine."
"Bottom line? Yeah, delta variant is bad. Like really bad," tweeted Ashish Jha, dean of the Brown University School of Public Health. "Our vaccines are good. Like really good."
"There's substantially more freedom for people who are vaccinated, but the idea that everything is the same as the summer of 2019 is not the case," Gregg Gonsalves, assistant professor of epidemiology at the Yale School of Public Health, told the New York Times.
Where Is the Delta Variant?
Delta has been detected in more than 130 countries around the world, according to the World Health Organization. It has made its way to every state in the U.S., where it now causes more than 90 percent of new COVID-19 cases.
States with low rates of vaccination are getting slammed the most by the virus. Rochelle Walensky, Director of the CDC, has said the country is now facing a "pandemic of the unvaccinated."
The South and Southeast are facing the brunt of COVID cases now. Florida, Tennessee, Louisiana, Mississippi, and South Carolina are facing the largest outbreaks in the U.S., according to NBC News. Less than 50 percent of people are fully vaccinated in these states. Hospitals are filling up, and some are running out of ICU beds.
How Worried Should Parents (and Kids) Be?
If parents are vaccinated, they don't need to worry much about their own risk. (And if you're a parent and you're not vaccinated, what are you waiting for?)
For unvaccinated kids — and there are no vaccines approved for those under age 12 — Delta is more of an issue. Children are more likely to be infected by Delta, but not because they're particularly susceptible to this variant. It's because Delta is more transmissible in general, and kids are making up more and more of the share of the unvaccinated population.
"I'm not concerned about my children or other unvaccinated children who are around fully vaccinated people, but I'm very concerned about unvaccinated people being around others who are also unvaccinated — whether they're children or adults," Leana Wen, an emergency physician and a professor of health policy and management at the George Washington University Milken Institute School of Public Health, told CNN. She lets her children play with other kids without masks outdoors, but they don't socialize indoors with unvaccinated people.
This story is developing. We will update it as new information becomes available.
This article was originally published on