CDC Tells States to Prepare for COVID-19 Vaccine by November. Experts Have Mixed Feelings
We all want a vaccine sooner rather than later. But is it safe?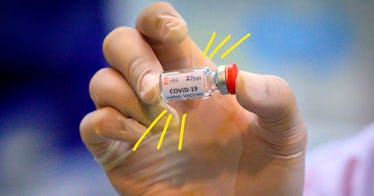 GETTY
The government is gung ho to release a COVID-19 vaccine by the end of the year — and by the presidential election. The Centers for Disease Control and Prevention told public health officials last week to prepare to distribute a coronavirus vaccine by late October or early November. And Anthony Fauci, the nation's top infectious disease experts, has said repeatedly he believes we will have a "safe and effective" vaccine ready this year. But is it possible to have a safe and timely vaccine?
It depends on who you ask. Some experts are concerned that President Donald Trump is pushing health agencies to approve a vaccine before the presidential election on Nov. 3, even if there is insufficient data to support one. "Vaccines should be ready when they are found to be safe and efficient. Not when it's favorable for elections," tweeted Florian Krammer, a microbiologist at the Icahn School of Medicine at Mount Sinai.
The rush for a vaccine is "incredibly ambitious and makes me worry that the administration will prioritize this arbitrary deadline rather than maintaining diligence with following the science," Taison Bell, a critical care specialist at the University of Virginia, told the New York Times. "It's hard not to see this as a push for a pre-election vaccine," Saskia Popescu, an infectious disease epidemiologist at the University of Arizona, told the Times.
The CDC's actions are nowhere near a guarantee for a vaccine within the next two months or so. The timeline depends on the success of candidate vaccines' trials. Rather, the CDC's move is about being prepared. "Even if it's very low likelihood if everything happened to come together really beautifully and we had an answer by then and we knew we had a vaccine that was safe and effective, wouldn't you want people to be ready to figure out how to do the distribution?" Francis Collins, the director of the National Institutes of Health, told CNN.
Though Trump has pushed health officials to approve a vaccine sooner rather than later, it is "extremely unlikely but not impossible" the U.S. will have a vaccine by the end of October, the scientific head of the White House vaccine program, Moncef Slaoui, told NPR on Thursday. However, Slaoui says he does "firmly believe" there will be a vaccine out by the end of the year for the most at-risk groups. Politics is not involved in the timeline, he said, but if it does overtake the science, he will quit.
If successful, the approval of a vaccine in less than a year would be practically unheard of. On average, it takes a minimum of 10 years to develop a vaccine. In rare cases, it can take less than 5 years. But less than 12 months? That's wild. And that's why the experts are freaking out.
"We're talking about such an accelerated timeline that it doesn't jive with the reality that most companies that are in the midst of a Phase III vaccine trial — that's the last step before you can think about large-scale distribution and FDA approval — most of them are in the beginning to the middle of it," Vin Gupta, a public health physician at the University of Washington, told TODAY. "We're nowhere close to do this properly," he says.
Despite these worries, top officials say they expect the vaccine to be ready this year. Fauci told Kaiser Health News that independent reviewers could end one trial weeks early, speeding up vaccine approval, if the results were extremely good. "Right now I will say we're preparing earnestly for what I anticipate will be reality… that there'll be one or more vaccines available for us in November, December," Robert Redfield, director of the CDC told Yahoo Finance on Wednesday.
If a vaccine is approved, chances are you won't see it anytime soon. Companies are initially expected to produce enough vaccines for only 3 to 5 percent of the U.S. population. Health officials will prioritize vaccinating first responders and frontline healthcare workers.