Scientists Find Antibiotic-Resistant Bacteria Strains in Playground Sand
Researchers find several strains of the notorious Clostridium difficile bacteria in sand samples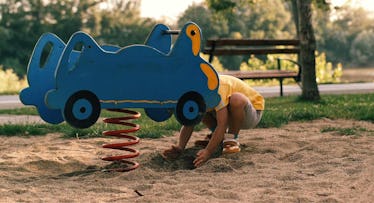 Playground sand may harbor antibiotic-resistant bacteria according to a new study. Researchers in Madrid sampled sand from playground sites around the city and found more than 50 percent contained genetically diverse strains of Clostridium difficile (c. difficile), at least one of which has been implicated in an outbreak. Do parents need to panic? Probably not.
"We have a lot of pathogenic bacteria around us. We have to live with them, and better, to learn to live with them," explains study co-author Dr. Jose Luis Blanco of Universidad Complutense de Madrid. He characterizes the study as a wake-up call to the potential health risk of outdoor play spaces. Blanco suggests his findings speak to the need of a "one world, one health" approach that would see "medical doctors, veterinarians, and environmental technicians working to know the habitat of the bacteria, the way to stop its transmission to humans, and control the disease in humans and animals."
Blanco and his fellow researchers on the study, which was published in the journal Zoonoses Public Health, set out to not only find bacteria lurking in playground sand, but more importantly to understand the genetic diversity of those bacteria. The researchers took samples from 20 pairs of sandboxes in Madrid. Half were primarily used by dogs and half were primarily used by children. The bacteria were then removed and cultured in a lab at which point a process called ribotyping was used to differentiate bacterial strains. Those strains were then further tested for antimicrobial resistance through the application of commonly used antibiotics.
The results showed that not only was c. difficile found in half of the sandboxes tested, it was equally present in both animal and kid sandboxes. Also, several of the c. difficile strains had broad resistance to common antibiotics including, erythromycin, clindamycin and penicillin G, all of which are go-to drugs for fighting infection. The resistance was not necessarily surprising given the genetic diversity of the c. difficile, an issue that Blanco remarks is a blind spot for the previous research.
"Not all the ribotypes are dangerous. It depends mainly on the ability to synthesize different toxins, specifically three: A, B, and Binary toxins," Blanco explains. "When a ribotype synthesizes the 3 toxins it is considered epidemic, or some as hypervirulent."
Although the study was localized to Madrid, other studies suggest it would apply elsewhere. One other weakness is that the study has a small sample size, but notes that even with the small sample size, the science community should take notice. "Of course, the sample size is too small. But we wouldn't consider the results more important if we used 200 sandboxes," says Blanco. "With this paper we only want to give a call to action, to know more about this bacteria and its distribution in the environment."
That said Blanco notes that parents can take some precautions to minimize the risk of contracting infectious bacteria from public playgrounds. "The main recommendation to the parents is to not leave food around that could attract animals to the playground," he says. "And of course, prevent the consumption of sand by the children."
This article was originally published on