Walmart+ Is the Membership You Didn't Know You Needed
Here's how to sign up for free, plus five Walmart deals to shop.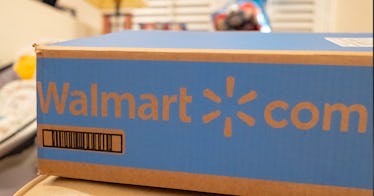 GETTY
Convenience has always been king, but since the pandemic took over all of our lives seven months ago, it now reigns supreme. If a service makes life even a little bit easier, faster, or more efficient, we're into it. If it makes it a lot easier, safer, and fully doable from home, then we're all in.
Which is why Walmart's newest subscription program, Walmart+, might be the best new membership to try out. The biggest draw of Walmart+ is its free delivery service, which requires no order minimum and offers same-day to two-day delivery. In addition to ordering online, you can also get your groceries (and any other in-store products) delivered from your local store* at no charge so you never have to leave your house. It makes it super-easy to get everything you need, even multiple times a week, without going out. Social distancing, what's up.
A Walmart+ membership also comes with reduced prices on fuel at select gas stations and a mobile app that allows you to scan products and leave (no check-out necessary) if you do end up venturing into a brick-and-mortar store.
The program normally costs $12.95 per month, or $98 a year — which is a savings, especially if you're ordering food delivery, and pays for itself pretty quickly — but you can now try it out for free for 15 days.
The deals at Walmart lately, in case you missed it, have been fantastic. Here are the five best gift deals we found this week.
* $35 minimum; restrictions apply.
Every product on Fatherly is independently selected by our editors, writers, and experts. If you click a link on our site and buy something, we may earn an affiliate commission.
This article was originally published on