10 Valentine's Day Gifts Moms Actually Want, According to Moms
Why take a shot in the dark when it comes to Valentine's Day gifts?
by Liz Newman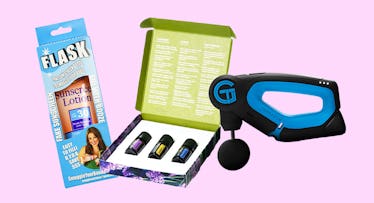 Everyone loves a cheat sheet, especially when it comes to giving gifts. Unfortunately, nothing is less romantic than asking the mother of your children for a list of what she wants this Valentine's Day ⏤ not a great look. Asking her friends or other moms for help on Valentine's Day gifts? Not a bad move.
RELATED: The Best Valentine's Day Gifts That Make You The World's Most Thoughtful Guy
Since we don't know your wife's friends ⏤ but still wanted to help ⏤ we reached out instead to 10 moms with young kids to find out what their hearts truly desired this Hallmark holiday. Not surprisingly, flowers and chocolates didn't make the list of best Valentine's Day gifts. Instead, exercise bands, soothing oils, and a wine flask that, naturally, looks like a suntan lotion tube made appearances.
The X Bands
This "Universal Red Band" is an anti-snap exercise band that offers 30lbs of resistance and helps with everything from pull-ups, curls, and stretching, to squats, deadlifts, and CrossFit. It works with own body weight or free weights and is one of the easiest ways to create a home gym without actually having to own a ton (or any) equipment.
Why a Real Mom Recommends This Valentine's Day Gift: "It's all about that home gym after having kids. These resistant X bands can be used for pretty much any exercise and they don't take up any room, which is obviously a huge win." ⏤Julia, 37
G2PRO
TheraGun's G2PRO is essentially a handheld massager for professional athletes that uses vibration therapy to relieve pain and soreness. It has a high-torque motor, four rotating arm positions, and works the muscles over for 45 minutes on a single charge.
Why a Real Mom Recommends This Valentine's Day Gift: "Since my husband refuses to massage my sore muscles, this deluxe vibration therapy would be amazing. The price is steep, but in long run, it would mean he would save money on spa massage packages. That's how I justify it, anyway. ⏤Maria, 40
Stitch Fix Gift Card
Since a personal shopper is pretty much every woman's dream ⏤ and also, in most cases, unaffordable ⏤ Stitch Fix is the answer. It's an online styling service where a personal stylist handpicks clothes, shoes, and accessories to fit the giftee's personal taste. In this case, wife gets pampered without ever leaving her bed ⏤ and then waits in giddy anticipation for her new items to arrive.
Why a Real Mom Recommends This Valentine's Day Gift: "The idea that I could buy a complete outfit in a store with three kids in tow is laughable. In fact, taking them into the actual store sounds like a death wish. This would solve both of those problems with one delivery." ⏤Lisa, 36
Taschen Coffee Table Books
"Publishers of art, anthropology, and aphrodisia since 1980," Taschen's collection of stylish coffee table books for lovers of beautiful books offers something for everybody. As there are hundreds to choose from, however, you do still have to know what you're significant other is into.
Why a Real Mom Recommends This Valentine's Day Gift: "This is the perfect example of something I love but never want to buy for myself ⏤ in other words, the ideal gift. You really can't go wrong with any of them." ⏤Vanessa, 39
doTERRA Oils
Distilled from hand-harvested plants, this kit of three essential oils ⏤ lavender, lemon, and peppermint ⏤ is good for everything from inducing peaceful sleep to clearing up sinuses. Plus, they make the entire house smell like a tranquil oasis.
Why a Real Mom Recommends This Valentine's Day Gift: "Anything that says it can help my kids sleep and stop my husband's snoring is truly priceless." ⏤Mary, 33
Handy Cleaning Service
Hiring someone else to clean the house is pretty much gift to both of you, but it's hard to imagine your spouse will be upset about it. Handy is an easy-to-use service that lets you book professional cleaners (as well as handymen) in more than 10 cities at the click of a button.
Why a Real Mom Recommends This Valentine's Day Gift: "I love practical things that make my life easier. A couple visits from a cleaning service is such a wonderful break. Handy is really simple to use, has great options, and can be booked for pretty much anywhere." ⏤ Paula, 41
Amazon Audible
Amazon's Audible book subscription service lets busy moms enjoy pretty much every tome under the sun (or at least in the Amazon library) while simultaneously handling all the daily kid-related tasks.
Why a Real Mom Recommends This Valentine's Day Gift: "For a lifelong reader, the idea of getting to actually sit down and read is just not going to happen. Audio books are perfect while washing dishes, doing laundry, and carting kids around to all their activities." ⏤ Lauren, 35
GiGi Clutch
This python leather handbag is fashionable enough to use as a clutch but still slim enough to also fit in a purse. It comes in one of eight colors, has a signature gold tassel cap, and for the monogram lovers, it can also be personalized with her initials.
Why a Real Mom Recommends This Valentine's Day Gift: "I have one of these clutches, and it's the best. I would love one in every color!" ⏤ Marjory, 35
Hello Fresh's Romantic Home-Cooked Dinner
For the mom who enjoys cooking a romantic dinner together with her husband after the kids are in bed, Hello Fresh's pre-planned, delivered meals (complete with ingredients and recipes) make it about as easy as possible. No grocery shopping required
Why a Real Mom Recommends This Valentine's Day Gift: "I love when my husband cooks a romantic dinner for me for Valentine's Day ⏤ but I also love when we cook together. I've been really wanting to try this service because it seems to easy!" ⏤ Liz, 29
Suntan Lotion Flask
This is a clever flask that looks identical to a tube of suntan lotion. Because yes, moms still like to drink at the beach. It has an easy-to-open dispenser, comes with a funnel, and it's most prominent drawback is that it can lead to drinking actual sunscreen.
Why a Real Mom Recommends This Valentine's Day Gift: "We go to a lot of outdoor events ⏤ concerts, the beach, etc. ⏤ and this is perfect for stealthily carting booze with us. In fact, it's so great my husband keeps stealing mine ⏤ that's why I need another one." ⏤ Allison, 32
This article was originally published on