The Best Valentine's Day Gifts She'll Actually Love
No tired flowers or candy, please.
by Donna Freydkin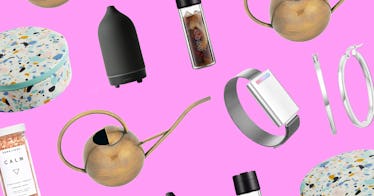 The perfect Valentine's Day gift for her is the one you buy. It's tempting to dismiss this as a prime example of grotesque commercialization of an essential piece of our humanity. You wouldn't be wrong — but you still need to buy her something. Because if anyone is there for you to mock the fake romance by reveling in it, then you must acknowledge that you really love them — and here's a box of chocolate.
And guys, lend me your ears: I'm a woman and I'm a mom. And I'll never forget one misguided albeit ostensibly well-intentioned Valentine's Day gift from my husband: A gym membership combined with a book on eating healthy. He meant well. It did not go over well. So: Stay away from anything that implies a need for weight loss. Or anything with a warranty because no matter how much she wants a new toaster oven, this isn't the time.
Here, then, is a list of gifts that could help with that. Some are offbeat. Some are fancy. The rest offer something else: a bit of calm, maybe, or, some silliness. Take a look.
The glazed stoneware box has a confetti-speckled lid, and is just the right size to keep her jewelry away from sticky kiddie hands.
Traditionally, this symbol keeps curses away. And in reality, it looks damn fine doing it.
Roberto Coin's stunning pieces are sold at places like Neiman Marcus. And we dig this pair of oval hoops because they're simple, they're timeless, and they're perfectly crafted from 18 karat white gold.
With its notes bergamot, rose geranium, and patchouli, this candle conveys warmth and intimacy. Both are good things.
As a rule, we do not recommend giving her any kind of household appliances. Of obvious reasons. But if she has a green thumb, she'll appreciate this showpiece when she tends to her greens.
These PJs, which come in a variety of colors, are soft, lightweight, stretchy, and comfortable. In other words, they're a win.
Because seeing the family never gets tired or old or boring. This 13MP camera has on-screen editing and thanks to its Bluetooth connectivity, makes photo sharing easy.
This design-minded gadget purifies wine by removing sulfites and sediment.
The heart-shaped spoon makes this taste extra sweet.
Both utilitarian and sleek, this backpack fits laptops up to 15.4 inches and has two additional mesh pockets for her phone and wallet.
Only Hearts somehow straddles the fine line between sexy and wearable. Case in point are these cotton panties, which she'll appreciate so much more than a generic and tired thong.
Whether she enjoys pour-over coffee, cold-brew, or hot tea, the Soma Brew Bottle does it all and takes it to go. As its name suggests, the bottle is made to brew drinks. Steep tea or filter coffee through its mesh sieve and sip from its top when it's complete. The double-walled glass keeps its temperature constant for hours.
Himalayan pink salts help her skin detox, while floral essential oils zen her out.
Holding 100 milliliters of water and 10 to 20 drops of her favorite essential oils (sold separately), the Vitruvi stone diffuser can run up to seven hours between refills and includes two run settings (constant and intermittent). Its ceramic bulb also looks great.
This Oprah-approved set of hand creams is so gloriously scented, you want to eat each one.
This is, bar none, the most perfect, fast-drying towel we've ever used. It's not decadent. But it's something she'll appreciate.
These unicorn slippers come with a twist: a heater that recharges via USB. They're charming and comfortable, with a plush synthetic lining that will make her feet sing. With pleasure. And maybe a laugh or seven.
The jersey feels like second skin, and the whale print gives the pajamas a sense of whimsy.
Oh and he's easy on the eyes. So there's that.
She wears this headband while meditating, perhaps after using her Jason Momoa coloring book, and it helps her stay focused and on track.
Every product on Fatherly is independently selected by our editors, writers, and experts. If you click a link on our site and buy something, we may earn an affiliate commission.