These Personal Pods Help You Weather Any Sporting Event
You can even connect four of them together.
by Dave Baldwin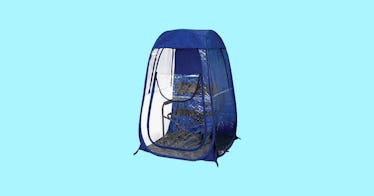 As if Pee Wee sports aren't tough enough to watch on their own, throw in a stiff breeze and a driving rain and cello lessons start to sound pretty damn good. Duck into one of these (somewhat ridiculous looking) portable weatherproof plastic pod tents on the sideline, however, and it becomes a whole different ballgame. Although, yes, still one lacking in basic dribbling fundamentals.
RELATED: These Rooftop Tents Are Basically Take-Anywhere Tree Houses
Under the Weather Pods are single-person, transparent tents targeted to sports parents and those who presumably prefer to see but not feel the outdoors. They stand 58-inches tall by 36-inches wide, rock a durable steel wire frame, and are covered by three-sides of water- and wind-resistant clear PVC. The company claims that once the doors/windows are closed, a person's body heat can raise the temperature in the pod by up 30 degrees (so that's a tailgating win). Multiple Under the Weather Pods can be linked side-by-side into a giant chain of snack-sharing fans using the two- and four-person ConnectUp roof attachments. And when the game's over, they quickly collapse into a seven-pound, 20-inch disc that's easy to tote thanks to the provided carrying case. FYI: Chairs are sold separately, so don't look for one in the box.
Under the Weather Pods are sold in 10 colors and five models, including the MyPod, the OriginalPod (side windows rather than doors), the XLPod (for two), the AccessPod (for wheelchairs), and the PhotoPod for a tripod and camera. Also, they rock UPF 50 sun protection so you can look silly sitting in one at the beach too.
Not surprisingly, sports enthusiast billionaire Mark Cuban was wowed by Under the Weather Pods on Shark Tank and went all in with an investment. So if you haven't seen them before, odds are good you'll start seeing more of them around. Prices start at $80, and they're available online.