'90s Toys That Are Worth Way More Than You Think
An appraiser fills us in on the old toys that are worth serious cash.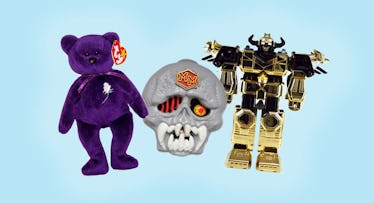 Whether it was flash-in-the-pan trends like snap bracelets or pop culture icons like Teenage Mutant Ninja Turtles, there's a chance you're still obsessed with or fondly remember the nineties toys you used to own. And if you happened to save some of your prized playthings from the decade, you could be sitting on some serious cash.
RELATED: Toys From The '70s That Are Worth Way More Than You Think
"The thing that usually goes for a lot of money are the toys that are either short packed, like when interest in the franchise waned and figures were not mass produced," says Mark Bellomo, a toy-collecting expert and author of several books including, most recently, The Ultimate Guide to Vintage Transformers Action Figures. "It's rarely the action figure that's worth a lot of money — it's the accouterment because that's what makes the figure complete. Accessories are as important or more important than the base figure itself."
RELATED: Toys From The '90s That Are Worth Way More Than You Think
Bellomo owns more than 65,000 toys, so he understands not only how collectors think, but why particular toys sell for 20 times their original value. Bellomo is also quick to point out the collectibles from the nineties are in a different league because people were more aware of the value of toys in the decade. Plus, Beanie Baby mania didn't help. "In the nineties, there were a lot of people concerned with value and that's why you've read those stories, for example, how some guy bought 100,000 Beanie Babies and if he sold them in 1996, he'd be a millionaire. But today they're worth about $3000. Just because you want something to be valuable doesn't mean it is."
RELATED: The Best Toys for Dads Prove That Growing Up Is Overrated
Not to mention the nineties happened more recently, so the values haven't aged as much as toys from the seventies and eighties. That said, it's starting to happen. "Usually 15 years later is when the market starts to bear fruit," says Bellomo. "If you started looking at 2005 for Teenage Mutant Ninja Turtles toys from the nineties — it started to catch heat, but it exploded in 2010. Those kids had capital and it becomes a reclamation project. It's about going back in time to that time of innocence. That's what it's about."
With Bellomo's help, here are six toys from the nineties that have particularly high worth these days.
American Girl Dolls: Kirsten Larson
Although the character was "retired" in 2010, the Kirsten Larson American Girl doll can sell for roughly $1,500. But of course, there's a caveat. Bellomo says the doll will only fetch that amount if she's sealed in the original package and comes with all of her original accessories. "But who has that?" questions Bellomo. "That's why it's worth so much money, because the number of people who didn't open it is so small."
Deluxe Power Rangers Gold Galaxy Megazord
Of course, the martial arts fighting, dinosaur mech-riding heroes are on the list, but it's not for that Green Ranger figure you have signed by Jason David Frank. The rare find here is the Deluxe Power Rangers Gold Galaxy Megazord released in black and gold, and in limited quantity, in 1999. In fact, the toy was only sold at the now-defunct FAO Schwartz and today could fetch up to $1000 on the secondary market. Bellomo says this figure is strictly sought out because of its limited numbers. "If it's mint in a sealed box, you can maybe get anywhere from $800-$1000 for it, but these are things that most people did not have or just did not save."
Mighty Max Playsets
The short-lived toy line and animated series Mighty Max was an offshoot of the very popular girl toy line Polly Pocket, where Max, a young boy, teleports through time and space on adventures with a Viking and an anthropomorphic fowl. However, the costliest items again are not the action figures, but instead the playset and its parts.
'These playsets, if they are sealed will go for hundreds of dollars. Or better yet, just the little tiny accessories that you plug into a playset that every kid lost when they were playing with it," he says. "You may have the playset base, the figures, but trying to finding the little thing that plugs into the other thing is impossible. That's why sellers will sell the playsets piecemeal as you'll get more than selling it complete. It's true of Transformers and GI Joes as well."
Sega Genesis and Games
Yes, it initially released in the eighties, but the Genesis didn't really come into its own until the nineties. The direct competitor to Nintendo, Genesis was known for its cutting-edge graphics and new characters and exclusive games like Sonic, Contra, and Streets of Rage. Bellomo says the video game console and even some Sega video games can go from $300-400 dollars, but the key requirement is everything needs to be sealed in its original packaging and in mint condition.
"A Sega Genesis mint in sealed box or even a cartridge games for Super Nintendo, or Sega are worth an astronomical amount of money, but I don't know anyone who didn't open their Sega [game packages]. There's a value to them."
Princess Diana Beanie Baby
It's odd to think of a memorial teddy bear as being one of the most sought-after collectibles from the nineties, but it is. As is the case for most expensive Beanie Baby toys, the condition of the doll is important, but as Bellomo points out, the condition of the tag is the key selling point.
"Does it still have the tied heart-shaped tag attached to it? That is as important as the Beanie Baby itself," Bellomo says. "If you have the Princess Diana Beanie Baby, and you have the tag attached, and it's the memorial one, then that is going to be worth a lot of money — thousands of dollars [as high as $500K on eBay] if it's legitimate. Very few people have that piece and in that condition and that's what makes it valuable."
Toy Biz Rare X-Men Action Figures
"Toy Biz was one of the few companies to hold the license for DC and Marvel at the same time in the nineties," says Bellomo. "If you look at the heroes who were released as toys in the decades prior, it was the main heroes, but in the nineties, you could find a Banshee or a Forge. [Those deeper characters] draw kids into toy lines to make them loyal consumers."
For example, Toy Biz's Deadpool action figure from the time was the first-ever action figure of the character and it can go for a good price if it's still in the package [anywhere from $50-$200]. Large collections of multiple characters from the entire line are also sought out and, together, sell for hundreds of dollars. "That Deadpool was a very popular toy," says Bellomo. "And dare say the action figures furthered the popularity of the comic book characters."