This Stunning Superhero Cape Turns Any Kid Into an Avenger
Dressing up isn't just fun. It's a key part of child development.
by Donna Freydkin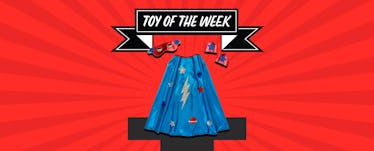 Ask any actor what they love most about their jobs, and they'll tell you the same thing: The absolute wonder of being able to immerse themselves in worlds they'd otherwise never inhabit. Maybe they're dinosaur tamers. Maybe they're devious members of the Marvel Cinematic Universe. Whatever the case, the joy of temporarily being someone else never loses its appeal. And the same thing applies to kids and pretend play.
When kids dream up and and inhabit intricate worlds of their own design, they get to practice everything from resolving conflict to inspiring teamwork. Two superheroes can't decide who gets to wield Thor's hammer? As they hammer out that conflict, they're also getting invaluable lessons in communication, compromise and problem-solving.
Plus, let's face it. Dressing up is just mad fun. It's a place to shake off self-consciousness and game out endless scenarios.
Things in the world of toys are ever so slowly improving, but by and large, costumes are still divided along gender lines. Boys dress up as ninjas and superheroes. Girls, meanwhile, are princesses, unicorns, and fairies. It's a frustratingly self-fulfilling cultural loop. If girls don't have ready opportunities to cast themselves as superheroes, they may not explore that role for themselves. So when we see a beautifully made costume that's also suitable for any gender, we rejoice just that tiny little bit.
Here's a knockout of a superhero suit from Meri Meri. It includes a cape, mask and cuffs. The cape is made from blue lame, so it's plenty dramatic with just enough glitter to make a statement without being over the top. The mask is adorned with red felt and blue stars, as are the cuffs. The set is ideal for kids in preschool and up. Best of all, the superhero in question doesn't have a name. Or a defined superpower. Meaning, it's whatever your kid wants it to be.
Every product on Fatherly is independently selected by our editors, writers, and experts. If you click a link on our site and buy something, we may earn an affiliate commission.
This article was originally published on