Toddler Mealtime Essentials That Will Mean Less Mess
Stick a fork in it. No, not the cat!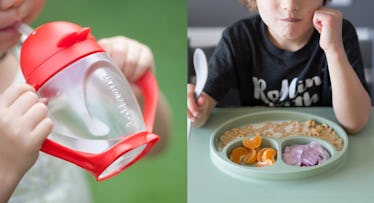 Dinner time with a toddler requires a special set of skills. A parent must come to the table with patience, calm, the agility to dodge flying food, and the speed to grab a towel before the spill spreads under the table. Think Liam Neeson if what was Taken was his ability to have a peaceful dinner without a kid, ever again.
But with that set of skill also comes a special set of tools. These are the implements that ensure the mess is lessened. They are the utensils that help the food get into your kid and not onto your kid. Here's what you should be rocking for your dinner essentials.
Happy Mats
These all-in-one plates and bowls are 100 percent silicone, dishwasher-safe, hypo-allergenic, and lack cracks or crevices that harbor bacteria. They suction to hard surfaces, which makes them damn near impossible for your kid to move. If only these placemats were made for adults as well.
OXO Tot Feeding System
The legend is that OXO's dishes and utensils for kids were created by parent/employees after 25 babies were born at the company in 5 years (presumably because they were all measuring cup fetishists). At any rate, this system fights feeding mess with a removable "training ring" that pushes food onto your kid's utensils. It also sports a non-slip weighted base.
Lollaland Lollacup
Graduating an infant from bottle to sippy cup can lead to some confusion. If only they could grasp the basic principles of suction. Until they do, there's the Lollacup: A 10 oz sippy-straw cup with a flexible, weighted wide-bottom straw that moves like a bell clapper and follows the liquid as the cup is tilted. No drop left behind. It also comes in 6 colors and looks like a chicken — which is fun if you're 9 months old. Or, okay, it's always fun.
Trebimbi Puppet Utensil Set
The set comes with a bowl, mug, and eggcup (rarely used in the US, but whatevs), as well as a knife, fork, and spoon made from safe materials. The trio of utensils snaps together for minimal lose-ability. If you're the type of parent that doesn't let your kid play with their food, at least let them play with their cutlery.
Bumkins Sleeved Bib
You'd think that as your kid grows, you would go to less bib coverage rather than more. Nope. As the mess of toddler eating hit's its apex, you'll be glad your kid is decked in Bumkin's waterproof, machine-washable, sleeved bib. It has great coverage and a handy food-catching pocket (because your kid can't grow a proper soup strainer yet). The patterns are fun too.
This article was originally published on