Today's Best Sales: Nerf Guns, Star Wars Toys, and Family Board Games
There are deals on Nerf guns as well as a variety of other Hasbro toys.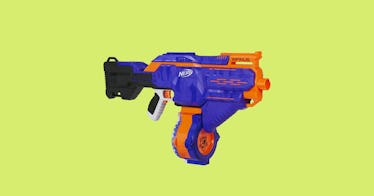 Every day, the Internet is teeming with deals, sales, discounts, and savings. But, as the Internet is a big, distracting place, said deals can be difficult to find. Plus, you don't have time to sniff 'em all out. You have work and kids and a total of 25 minutes of free time that shouldn't be spent looking for discounts. So, to help you out, we'll be combing through the daily offerings and rounding up the deals we like, and think you might find useful. Today, Amazon is having a huge sale on a ton of different Hasbro toys like Nerf blasters, a Star Wars lightsaber, Sesame Street toys, plenty of classic board games, and an Iron Man playset that's one of our best toys of the year.
Nerf N-Strike Elite Infinus Blaster
It doesn't look that different from previous Nerf blasters, but the N-Strike Elite Infinus is the first blaster that loads automatically. Instead of taking apart the gun to load a drum or clip, all you have to do is insert the darts into a small hole in the top of the blaster. They're sucked into the chamber and ready to automatically ready to fire automatically, thanks to the gun's engine powered by 4 D batteries. The N-Strike Elite Infinus has a list price of $70, but you can get it for just $37 today on Amazon.
Star Wars: The Last Jedi Kylo Ren Electronic Lightsaber
It's true that any longish stick can become a pretend lightsaber. Still, it's fun to have a toy that looks like the real thing. This Star Wars toy is modeled after Kylo Ren's cross guard offering, complete with light and sound effects. It's also part of the Bladebuilders series that lets kids mix and match different hilts, connectors, and saber pieces to make the Star Wars weapon of their dreams. This lightsaber is 30 percent off today at Amazon.
Playskool Friends Sesame Street Singing Friends Piano
If you have young kids who aren't quite ready for Star Wars or its accompanying weaponry, this musical toy from Playskool is a great choice. Its seven keys mimic the layout of a real piano, even if its character-coordinated colors don't. In one mode of play, kids can press the keys and hear the accompanying Sesame Street character sing a classic song. In another, kids are asked to press the shape and color that responds to cues from the characters. It's a neat toy, and it's $8 off today. Even Oscar can't be mad about that deal.
Scrabble
No board game closet or childhood is complete without this timeless crossword game. At under 10 bucks, it's a complete bargain, so you can start memorizing two letter words now. (The Spanish version is also on sale.)
Playskool Heroes Marvel Super Hero Adventures Iron Man Headquarters
This 28-inch-tall Marvel playset, one of our 100 best toys of 2018, has tons of features your Avengers-obsessed kids will love. They can trigger trap doors, launch vehicles, and activate the lights in the structure, which looks like a big Iron Man with a bunch of moving pieces and compartments. It's a seriously fun playset that, at $18 off the list price today, you don't need to be Tony Stark to afford.
This article was originally published on