The Thule Spring is the Porsche Taycan of Travel Strollers
by Jon Gugala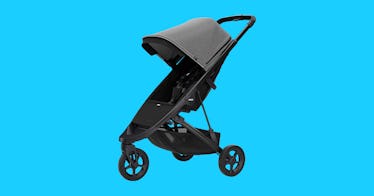 Dads know the feeling: After decades of moving fast and living faster, modern baby care seeks to slow your day to a risk-averse stroll. Travel strollers, while more lithe than their full-sized brethren, are no exception. With its new Spring stroller, Thule brings back that elusive feeling of burning up the track. Lighter, nimbler, and with a smaller footprint than any of its other award-winning options, this is the baby racer to ramp up your pulse.
Say goodbye to that Oldsmobile of a baby stroller your parents gifted you; the Spring weighs in at a mere 22 pounds—the lightest stroller the company makes—which feels more akin to a leaned-out, track-ready Shelby Mustang. Also, with its three-wheeled design, it corners on a dime for precision maneuvering when needed.
Another thing we loved was its one-handed fast-folding frame, which allows you to balance a baby in one arm and snap that sucker closed with your other. It also has a one-handed adjustable handlebar to achieve the perfect height on the go. Thirty percent smaller than competitors when closed, it's also self-standing for easy storage. It accommodates children from birth (when you use a compatible car seat) up to 65 pounds.
For the man about town, its UPF 50+ sun shade comes in a variety of colors, all of which ensure that your child is safe from scorching rays, even when they're coming from a lower angle.
Of course, there are some handy functions that, while not as sexy as its lightweight chassis, are still noteworthy. Puncture-proof foam tires add reliability, while a five-point harness insures your child will lean into the curves just like you. When you don't need pinpoint precision for tight turns, lock in its front wheel for smoother cruises, and when your child is ready to slip off to dreamland, recline the basket so that the roll of the road can take him or her the rest of the way.
While we love Thule's line of above-car luggage racks, its stroller line consistently impresses. With the addition of the sleek and fast Spring stroller, we're even more onboard. New for 2020, it's a breath of fresh air.
Every product on Fatherly is independently selected by our editors, writers, and experts. If you click a link on our site and buy something, we may earn an affiliate commission.
This article was originally published on