The Nuna Pipa is the Toughest Lightweight Car Seat and It's a Tank
It's easy to install. Easy to haul around. And it's all-around great.
by Oliver Lee Bateman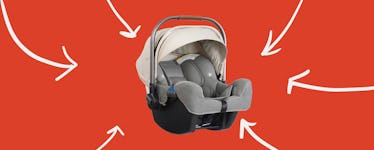 My wife and I were worried. Before our baby arrived in early February, we took frequent road trips up and down the eastern seaboard. That meant lots of driving, with lots of stops. Hauling a growing infant, strapped into a car seat, in and out of vehicles is a fairly hard-core workout, especially with my wife recovering from a C-section. So we needed the right gear baby gear to keep our newly-formed trio mobile. The solution: The ultra-portable 8 pound Nuna Pipa car seat, a sleek, AAP-approved safety carrier that's the most lightweight rear-facing car seat on the market. We clip Cleo in. We hoist her out. And we do so without needing to see an orthopedist.
The list of AAP-approved car seats is long, but so were our requirements. And the Pipa punches way above its admittedly low weight. It's made without the use of fire-retardant chemicals, which the National Institute of Environmental Health Sciences (NIEHS) has linked to endocrine, developmental, and neurological problems. Any reduction in potential chemical exposure was a plus in our book. And the car seat has serious side-impact protection, and installs quickly, thanks to the brand's true lock system. The car seat clicks into place, and you're done.
It has a sun-blocking dream drape, to make sure your baby stays asleep and isn't bothered by mother nature or germ-wielding looky-loos, and a mesh peek-a-boo window so we could gaze upon the wonder that is our child. There's an infant insert that is removable and washable. And if you're taking a cab, as we often do, you can use it with a seatbelt, without having to buy an extra base. The car seat can be used for babies from 4 to 35 pounds.
Before I became acquainted with the Pipa, I had always assumed a baby would weigh us down, but the Nuna accessories have proven to be nearly weightless. The Pipa car seat out of the base weighs 8 pounds, and with the 7-pound baby Cleo in it, that amounted to a manageable 15-pound load for me and, more importantly, my wife, who had undergone a C-section.
But here's the thing: Despite its very light load, the Pipa is made from aerospace aluminum and the shell is made from foam; it has a crumple zone within the stability leg that absorbs impact in the event of a crash. The Pipa has a heavy-duty shell with excellent side collision protection, its 20-pound base is constructed like a Sherman tank and has a thick stability leg.
Now, to be clear, Nuna makes an even lighter car seat, called the Lite, and it weighs 5.3 pounds. However, that's without the canopy or insert. So we opted for the very slightly heavier option, since the canopy is pretty critical for protecting the kiddo from the sun.
One last thing worth noting: We're new parents and by definition, we're paranoid. Or vigilant, if you want to be polite. So I'm happy to report that attaching the Pipa base was simple. The back of the base connected to the brackets in the passenger seat of our SUV — the middle seat in our vehicle doesn't have those brackets, despite recommendations online to use the middle seat when placing car seats, so we chose to put the base where the brackets were — and the stability leg popped out and fit securely on the floor.
The leg has an indicator that signals green when the placement is correct, and the base has a built-in level that shows when it is even. The install took a few minutes, with me following along with a Nuna install how-to video (there are many) from YouTube. I then took the added step of driving it to the local fire department, where a firefighter verified that the installation was done correctly. And now, we pop the car seat in, and Cleo is ready to ride.
Every product on Fatherly is independently selected by our editors, writers, and experts. If you click a link on our site and buy something, we may earn an affiliate commission.
This article was originally published on