The Best Flat-Pack Cardboard Playhouses For Kids
It's raining outside? Here are some flat-pack playhouses for your kids to still have fun indoors.
by Dave Baldwin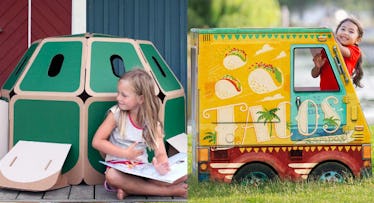 No kid wants to spend an entire afternoon building an epic pillow fort only to have to tear it down right before dinner. But tear it down they will, dammit. Because even if mom and dad are cool enough to leave it up for a few days, eventually they're going to want their couch back. Forts come and go, but sectionals are forever. Fortunately, there's a solution to this West Point vs. West Elm dilemma: The flat-pack cardboard playhouse for kids, a ready-to-assemble fort that can be set up and taken down in a matter of minutes.
RELATED: The Best Toddler Climbing Toys And Tumbling Mats
Flat-pack playhouses are usually (but not always) made of heavy-duty cardboard, require no tools to assemble, and store away flat when not being used as a rampart in a spirited Nerf dart war. The beauty of the thing is that the unbeautiful thing can be put away, stored in a closet, under a bed, or in the garage. Need a forward operating base on a moments notice? Just retrieve, pop, and lock. As long as the cardboard playhouses don't get smashed by a falling father, they'll last for a good long time.
RELATED: Backyard Playhouses Designed By Award-Winning Architects
Surprisingly and disappointingly, there aren't a ton of companies making awesome indoor flat-pack cardboard playhouses for kids. But there are actually very few worthwhile products in this category on the market. These are the absolute best.
Hulki Turtle
The idea behind this Dutch company's line of 100% recyclable playhouses is that kids enjoy interacting with ⏤ and/or climbing inside ⏤ animals. The flat-pack cardboard playhouses are made from a heavy duty 4mm cardboard, weigh between 12 and 16 pounds each, and take about 15 to 30 minutes to assemble sans tools. They're not small: The turtle can reportedly fit up to three kids age three to seven-years-old. They also sell an owl (in red or yellow) and, for the youngster who enjoys reenacting Bible stories, a Whale.
Famous OTO Taco Truck
For that one toddler who won't stop raving about how much they loved Chef, the Brooklyn-based Swedish designer behind Famous OTO has cooked up a Yucatán-style taco truck. Similar to their popular Ice Cream Truck, it's decorated with fanciful food illustrations and measures 40-inches by 36-inches by 24-inches, so there's plenty of room for somebody to take orders and another to work the grill. It's made for kids two-and-up out of non-toxic 100% recyclable cardboard, and $1 from every sale gets donated to a charity called One Tree Planted, which does pretty much exactly what you think it does.
Antsy Pants Pirate Ship
Antsy Pants build-and-play kits are like modular K'NEX/Tinker Toy systems for forts. Kids build the frames using color-coded poles and snap-and-click connectors and then drape them with one of 12 covers (sold separately). The beauty being that not only can you change the playhouse from a fairytale castle, to a farmer's market, to a pirate ship, but with a little practice Junior should also be ready to help set up the family tent come camping time. Frame kits come in three sizes (from 60 to 123 pieces) and can even be connected with separate tunnels. Also, a portion of each sale goes to the non-profit KaBOOM! to help build playgrounds for kids in need.
PopUp Play
Make your home the place of high fantasy adventure with this castle, as seen on Shark Tank. Using the PopUp Play app (which is free to download), your kid can design their dream cardboard playhouse (castles and gingerbread house themes are available). Once they've completed the design, you can order it. They can then assemble the flat-pack kit and color it in, providing entertainment beyond playing with the fort after it's completed. Playhouses are four-and-a-half feet tall and four feet wide.
Air Fort
It's not a flat-pack cardboard playhouse, but it's another kind of playhouse your kid can enjoy on a rainy day. At four feet tall and six-and-a-half feet wide fort, your kid can crawl under the fort to get in and out. All you need to do to set it up is place a 20-inch box fan at the end of the tunnel, attach it with adhesives on the fort, and it quickly inflates (the fan is not included with the fort). When you're done, fold it up and put it in the included pouch for storage.
This article was originally published on