The Best Camping Tents For Families
Hassle-free camping tents that will help you and your kids get outside more often.
by Berne Broudy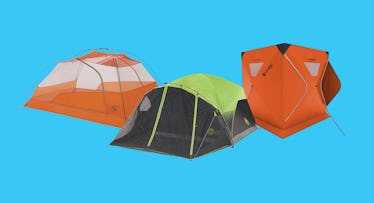 Whether your idea of camping involves a three-day hike and a tent staked deep in the woods or a car-friendly site that's a short drive from a sandwich shop, summer adventures demand an appropriate shelter. Unless you enjoy hearing the kids complain about mosquitoes, rain, and that furry thing that keeps sniffing them, though, you're going to need a great family tent.
RELATED: Qube Tents Connect To Make A Giant Camping Fotress
So, when your tent shopping, think about what you'll be doing. A backpacking tent is generally much lighter and minimalist than a car-camping tent. And if you are backpacking, you'll want to carry the lightest and generally smallest camping tent you can for the people and gear you bring. When you're car camping, the only restriction is the size of your campsite.
ALSO: Summer Campsites Across The Country You Need To Reserve In Winter
Probably the biggest thing to keep in mind is the budget. And like most things, you get what you pay for. More expensive tents offer more dependable zippers, better-engineered ventilation, and weather protection; they're also designed to last a really long time. A budget camping tent may not last as long, but it's a great way to test the waters and see if camping equals quality time for your family.
MORE: The Best Family Camping Tents
We tested the latest tents and arrived at these fantastic options right for whatever kind of family adventure awaits. Here's a list of the best camping tents on the market.
Best For Setting Up In The Rain: MSR Hubba Tour 3
Light enough for backpacking, and spacious enough for car camping, MSR's Hubba Tour 3 is easy to set up and offers loads of room for you and your gear. The tent and rainfly are integrated into one — the structure sets up with a single set of poles on the outside, keeping the inside dry if you're setting up in a sprinkle. The integrated vestibule has an oversized door for easy loading and entering/exiting. There's plenty of space inside to peel wet layers before entering the body of the tent, or to store bike panniers or backpacks. A partial floor in the vestibule also keeps your gear off the ground. The three-person Hubba Tour has a second door that enters directly into the tent. It's spacious for two, but will hold three, especially if one member of the party is pint-sized.
Best For Storing Gear: Eureka Boondocker Hotel
A base camp tent with all the features of the best beach cabana, the Boondocker Hotel is big enough to sleep six. But it also has a massive gear garage you can use for storage, to cook, or just to escape the weather, both rain and sun. The tent also has a gull-wing side panel that guyed out is another sunshade or rain break. It's made for base camping, with six internal pockets to keep inhabitants organized, and includes vents that draw air in at the bottom and circulate it out the top.
Best 2-in-1: Big Agnes Titan 4 Mtn Glow
This four-person tent may look like a traditional shelter, but it's actually two structures in one. Set up the fly with separate poles and you have a freestanding sun shelter that's great for a mid-day game of cards, lunch, or napping in the breeze. The sun/wind/rain shelter also has a floor, making it a mobile playpen of sorts. At the end of the day, simply clip the tent inside the fly and you have a waterproof shelter for four. Even better, because you put up the fly first, the tent stays dry if you're setting up in the rain. The Titan 4 Mtn Glow comes with a string of moveable LED lights that add ambiance and provide enough light for evening activities ⏤ no need to pack a lantern. Need even more space? They also sell a separate vestibule.
Best Cheap Camping Tent: Kelty Outback Four
A four-person car-camping tent, this flexible and affordable option roomy enough for a medium-sized family of four. It's quite basic, with a single big zip door and a single vestibule, but is made from the high-quality materials needed to keep you dry and well ventilated. The camping tent's interior pockets help you organize, and the all-mesh ceiling gives great views of the stars when there are clear skies. It's also easy to set up and break down, with a standard fly that attaches to the ends of the tent poles. And, at roughly 10 lbs., it's able to be split up between two people for the occasional backpacking trip. Also available in two-person and six-person configurations.
Best For Backpacking: Big Agnes Copper Hotel HV UL Three
Serious backpackers need a lightweight, high-strength camping tent they can depend on in all conditions. The Copper Hotel is both, with plenty of space inside to spread out whether you're a family of two, three, or three plus a furry friend. Two big, zippered doors, steep walls for more headroom, and an extended vestibule add to the comfort, while an extra large ceiling pocket and five smaller mesh pockets store headlamps and other gear you might need to find fast. There's plenty of ventilation, and the non-vestibule side door curtains open for an unrestricted view even with the fly on. And in bad weather, you'll be warm and dry inside. The entire package weighs a little more than four lbs.
Best For Getting Kids to Bed: Coleman Carlsbad Fast Pitch 6-Person Dome
The name tells you most of what you need to know—this camping tent is easy to set up, sleeps six, and it has a screen room to give you space to eat, play, or chill when the black flies are out for blood. What it doesn't tell you: all of the screens on this tent are block light. So if you've shied away from camping because your kids won't go to sleep if it's still light out, this could be the solution. Darkened screens also keep the inside cool. While the Carlsbad isn't made from the same quality of materials as other tents in this roundup, it's a great car camping starter tent if you're on a budget. Also available in a four-person version.
Best Large Tent: Thermarest Tranquility Six and Arrowspace Shelter
Freestanding, fast pitch, ultra-liveable, and made from the highest quality materials, this six-person mondo condo is built for convenience and livability. The front vestibule is part of the camping tent, not part of the fly. And the tent, even with the fly on, is totally freestanding and without stakes — meaning, it's easy to move. Need some privacy? The spacious cabin zips into two smaller rooms with an integrated curtain. With the rainfly off, you can stargaze through the massive arched door and mesh ceiling. Raining? It's a quick one-person job to weatherproof the tent. If you want to transform the tent into a backcountry chalet, add the freestanding, open-air Arrowspace shelter. It's close to the same size as the camping tent and clips to it forming a massive vestibule. You can also use the Arrowspace solo for outdoor gatherings, at the beach, over a picnic table. Both tent and shelter pack into compact, easy-carry backpacks.
Best For Big Groups: Nemo Wagontop 8P
Plan on bringing a big group into the woods? This shelter will hold them all. Thanks to steep walls, it has enough headroom for a dance party; single wall construction means most of the tent is fly-free. An easy-to-roll back skirt fly covers the front of the "wagon" when you need it. There's a lot to love. Our favorite feature, however, is the integrated screen porch, which allows campers to get out of wet, muddy gear without Jackson Pollacking the interior. It's also a great place for a couple of camp chairs. And when you're inside the porch, you can zip the camping tent closed and create a separate space. The 8P is Nemo's largest. The Wagontop is also available in six and four-person versions, although the four person doesn't have a screen porch.
Best For Easy Setup: Lotus Bell Inflatable Yurt
Setting up a tent is time-consuming at best, and frustrating at worst. That's why the folks at Lotus Bell invented this giant inflatable yurt. It's spacious, waterproof, and blows up in only a few minutes (a hand pump is included if you don't own an electric pump). Plus, it's perfect for large families or group camping trips.
Best Modular: Qube Tents
The latest outdoor accommodation from the makers of the popular Pod, Qubes are quick-pitch tents that can be set up in under two minutes. Bonus: they attach to one another via a series of universal connector tunnels. Simply take it out of the carrying case and unfold. That's it. The flexible fiberglass poles are integrated so you're not stuck struggling in the rain to figure which one goes where. And Qubes are seven-feet-tall, so unless you're related to Manute Bol, you shouldn't have any problem standing in, or walking between, them.
Best Rooftop: Tepui Kukenam Sky
Rooftop camping tents are basically portable treehouses. Tepui's Tepui's Kukenam Sky makes the setup easy. It bolts to your roof rack crossbars and flips open when you reach camp. Flip it open, unzip it, adjust the included aluminum ladder, and stake out the window covers, and you're ready for occupants. It takes a pair to install the tent on the car, but once it's on the bars, it's fast and easy to set up. The tent has a permanent foam mattress inside that's more comfortable than any air mattress and, because you're off the ground, the tent usually stays cool. When the weekend's over, the tent buckles into a low profile brick with a waterproof cover, so it's always ready for an impromptu adventure.
Every product on Fatherly is independently selected by our editors, writers, and experts. If you click a link on our site and buy something, we may earn an affiliate commission.