This $20 Inflatable Pool Made My Whole Summer
The 10-foot-long, 224 gallon Sizzlin' Cool Deluxe is worth way more than 20 bucks.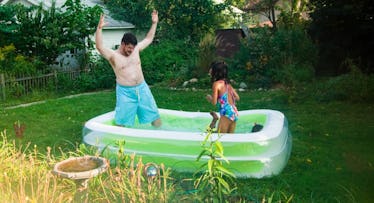 <a href="https://www.flickr.com/photos/stevendepolo/4889649612/" target="_blank" rel="noopener">flickr / Steven Depolo</a>
My family doesn't own a pool. Not one in the ground, at least. We have the yard but not the budget, and while, sure, we could have invested in a popular stock tank, I'd rather not dig into my lawn. Instead, with temperatures rising and our toddler melting, my wife and I set out to buy a portable pool that would fit in our Subaru. I wanted it to be sturdy, a decent size, and able to fit in my garage at the end of the summer. I found one that is better than I ever could've dreamed. And it only cost me $20.
I learned three things about kiddie pools right out of the gate: one, you pretty much have two choices, plastic or inflatable; two, the big box stores have a surprisingly deep selection of both, and most are cheap; and three, those classic plastic wading pools everybody had as a kid are, inexplicably, crazy expensive. As in, they cost hundreds of dollars for what looks like a flimsy piece of plastic. It's insane.
In the end, I chose the ridiculously named, Sizzlin' Cool Deluxe Rectangular Family Pool. Why? It had everything I could've ever wanted. For $20, this bad boy measures 10-feet long, holds 224 gallons of water (224!), can fit the whole family ⏤ because why should my daughter have all the summertime fun? ⏤ and folds up to fit in the garage next to my tools and our growing fleet of toy vehicles.
Now, I say the decision was easy, because I didn't harbor much hope for something so cheap. I figured it would have some sort of issue inflating or retaining water and it would wind up in my trash before any splashing happened. But not only did the pool easily inflate in seconds (thanks to an old air-mattress pump we had stashed away), but the Sizzlin' Cool Deluxe was sturdy and its 10-foot by 6-foot footprint really was big enough to comfortably fit my wife, my splashing toddler, and me all at once. In fact, I could fully lie down in the pool, beer in hand, while my kid took a potty break. Seriously, I can't lay down in my own tub, but I can in a cheap vinyl pool.
Now, the Sizzlin' Cool Deluxe thing's not perfect. Draining the water in the backyard can be a hassle; remember, it does hold 224 gallons (that wasn't a joke). But I figured out an easy 'hack' to speed things up ⏤ instead of just opening the drain valve, I also pull the plug and deflate the whole damn thing. A toddler bouncing on the extra-wide side walls doesn't hurt either. Also, the pool is surprisingly heavy (it weighs 16 pounds deflated) and once filled, you can forget about pushing it to a shadier spot. So, plan ahead before turning on the old garden hose. And finally, while it's not really big enough for my kid's new poop-emoji float (jealous?) it can accommodate a floating cup holder during my late-evening dips.
All said, my daughter loves the Sizzlin' Cool Deluxe. And I love that it keeps her occupied long enough for me to grill some steaks on the Weber, too. In fact, I'm already thinking about adding a few modifications next summer, to which I know now it will last. At the top of the list? A toddler slide.
This article was originally published on