The Best Black Friday Deals on Smartphones, Appliances, TVs & More
The year's biggest shopping day is finally upon us. It's time to find your bargain.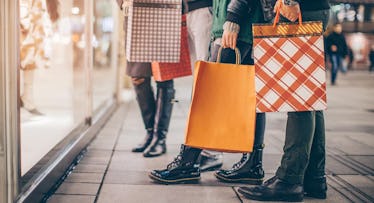 Think of Black Friday as a game that produces a few winners, but lots of losers. But landing in that winning group — the one that makes out with big-ticket Black Friday deals on that aren't available any other time of the year — rewards those who know whee to look.
RELATED: The Best Cyber Monday Deals You Can't Pass Up
See, in order to gin up excitement, major retailers tend to publish their biggest markdowns in advance. So instead of stampeding stores to blindly search for deals, you can take a more deliberate approach. Decide what you want ahead of time, figure out where to buy it, and then swoop in early, before the mob tears the shelves apart. You'll make out with a killer deal, and you'll avoid getting caught up in the chaos. Most of it, anyway.
ALSO: The Best Black Friday Deals on Toys and Games
To help take the headache out of the year's biggest retail day, we've done some digging for you. Whether you're looking for a Black Friday deal on a new 4K TV, refrigerator, game console, DSLR camera, or furniture set, here's what you need to know.
1. If you pick up an iPhone X at Walmart and activate it at the store, you'll get a $300 Walmart gift card, which on Black Friday, can get you anything you want — except for another iPhone X.
2. If you never want to go to a movie theater again, pick up the Samsung 65" LED 4K TV for just $1,300 (down from $1,600) at Best Buy on Black Friday. It delivers realistic viewing, with deep, dynamic color that still looks impressive with morning or afternoon light streaming through the windows.
3. If that's more TV than you need, consider the Samsung 49" Class Curved 4K Smart LED TV from Jet. It's marked down more than $300 — $648 from $976.
4. Also at Jet, you'll be able to pick up an Xbox One S for $189, rather than the usual $279.
5. You can score an inflatable stand-up paddle board at nearly 60 percent off at Amazon. This week, the Tower Paddle Boards Adventurer is marked down from $1,175 to $492.
6. Looking to replace your old appliances? You can score a free Samsung Powerbot Vacuum, a $500 value, by purchasing any Samsung appliances that total more than $2,500 at Best Buy. Yeah, it's a big spend. But each appliance is also marked down itself. Consider a new stainless steel refrigerator ($1050, saving $700), a new range ($600, saving $289), and a washer and dryer ($500 each, saving a total of $260).
7. For another fridge option, consider Lowes. The store is knocking $300 off a 25.5 cubic feet Frigidaire complete with icemaker. Buy it for $700.
8. Need a laptop? Now's the time to strike. The price for Macbooks are also going to drop. Look for the 13-inch base model to hit $800 (from $1,000). If you prefer PC, the Surface Pro Core M will drop even further, to $630 (also from $1,000).
9. The Go Pro HERO5 at Best Buy comes with a wireless remote and will be $50 cheaper than usual, selling for $350 on Black Friday. The action camera is waterproof and voice-operated, and it films in 4K resolution.
10. Save $220 on the Beats Studio 2 Wireless Headphones (they come in black, gold, silver, white and gloss black). They'll be selling for $160 at Best Buy.
11. Macy's already has Black Friday furniture deals listed on their site, and they're pretty awesome. Look for as much as 50 percent off of on chairs, couches, sofa beds, bedroom sets, dining room tables, and more. Want a Colton Leather Power Recliner to improve your lounge game on football Sundays? Get one for $499, down from $949.
12. The iconic KitchenAid 5-Quart Stand Mixer typically sells for $350. Macy's is selling it for $180.
13. If you want a Dyson vacuum, check out Macy's insane sale of the Dyson Pro Canister Vacuum for $200 — that's $330 off the retail price. Or head over to Best Buy for the Dyson Big Ball Animal upright vacuum. Usually it's $700, but expect to see it at $500.
14. Speaking of Dyson, Target is selling the company's fans and air purifiers at nearly 50 percent off. Look for the Pure Cool Link to fall from $400 to $250.
15, Amazon is offering huge discounts on 3-D printers. Find a Dremel DigiLab 3-D Printer for $956 (down from $1,299), a Sindoh 3-D Printer for $949 (also down from $1,299), and a Robox 3-D Printer for $599 (down from $1,499).
16. Upgrade your photography game with the Nikon D7200 DSLR Camera, $1000, a whopping $500 off the original retail price at Best Buy. Or if you prefer a Canon, Kohl's has an incredible deal on the Canon EOS Rebel T6 Camera. It's a perfect entry-level camera at $450, nearly 50 percent off.
17. Best Buy has your home-entertainment worries solved. If you're looking for a wireless sound system, the Sonos Playbase Wireless Soundbase for Home Theater will be $600, $100 off the original price. If you're an old-school wires kind of guy, the Pioneer Home Theater 7.2 Channel Receiver will go for just $350 (it's usually $700).
This article was originally published on