The Best Basic Cell Phones for Kids
We found the best basic and screen-free phones for kids, so they can connect with mom and dad, without all the distractions.
by Donna Freydkin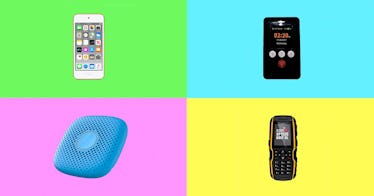 As they get older, kids need and crave more freedom, but that doesn't mean parents don't want to keep tabs on their whereabouts. That's where basic phones for kids, including screen-free devices, come into play. Kids' cell phones serve one purpose: to connect parents and kids quickly. Some might boast impressive displays and others less so, but all allow mom and dad to contact the kids when needed, and vice versa. In essence, the best phones for kids are an emergency line to your child and little else, which is pretty much all you need.
If you're not ready to get your children pricey iPhones that will send them down the social media rabbit hole, these basic kids' phones are a solid stopgap solution. The phones on our list allow parents to communicate with their kids, set an approved list of contacts, and in many cases, see exactly where their kids are at any given time.
Every product on Fatherly is independently selected by our editors, writers, and experts. If you click a link on our site and buy something, we may earn an affiliate commission.
This article was originally published on