The Coolest Back-to-School Backpacks For Kids
One even has an art tube to get your kids drawings home safely.
by Dave Baldwin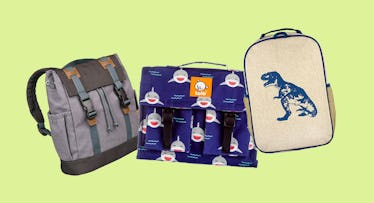 Buying one of the best backpacks for school is a genius way to get your kids to finally carry their own damn stuff. The key to selling them on the idea that toting heavy books is fun (!), however, is that said book bag needs to stand out and showcase their style. Also, not hurt their tiny backs.
RELATED: The Best Back-to-School Tech and Gadgets of 2018
To that end, we've put together 12 of the coolest and most comfortable, hippest, and high-tech best backpacks for school on the market for all ages. Kid book bags that can go in the washing machine. Backpacks emblazoned with their favorite baseball teams. Even backpacks with built-in art tubes so their unflattering drawings of you can arrive home unscathed. Best yet, they're all built to last, so you don't have to go through the selection process again next year.
Zoli Stash
Another in Zoli's stylish line of matching accessories for kids (lunchboxes, water bottles, snack containers), the Stash classic ruckstack features a tough 300-denier polyester exterior, reflective trim, padded back/shoulder straps, and a 15-inch laptop pocket. It comes in one of seven festive colors and is also available for toddlers in a smaller $30 bucket-style design called the MiniStash.
Twelve Little Big Kid Courage
Designed for kindergartners and early grade-schoolers, Twelve Little's new two-tone Courage backpack is made from a water-resistant crinkle nylon with vegan leather trim and boasts a padded back panel, two side mesh bottle pockets, and four sports patches to iron on the front. Also, there's a matching lunch bag sold separately.
Herschel x MLB
It doesn't matter if your future major leaguer loves the Giants, the Braves, or the Red Sox, Herschel's new Major League Baseball line covers all 32 teams. The Heritage backpacks for school are gloriously streamlined, including a 15-inch laptop sleeve and media pocket with headphone port.
SoYoung Dino
The cool thing about SoYoung's line of eco-friendly raw linen kid book bags (and lunch boxes) ⏤ other than their crisp iconography ⏤ is that they can get dumped right in the washing machine. No need to spot clean all those Juicy Juice stains. It boasts an internal mesh pocket, room for a full-sized Trapper Keeper, and two water bottle pockets to ensure Junior stays properly hydrated. And while it's sized for kids aged 6 to 11, a toddler version is also available for pre-schoolers.
Lassig Little One & Me Backpack Small
The Little One & Me is a matching pint-sized version of Lassig's popular canvas diaper backpack. The kids book bag features an internal pen pocket, name badge, and a drawstring closure. Plus, the main compartment fits a full-sized lunch box.
Tula Kids Unicornicopia
Tula's new line of nesting lunch bags and backpacks (the lunch bag fits in the backpack) for ages 3+ are made of a water-resistant fabric ("in a nostalgic European design," mind you), measure 9×12-inches, and include padded shoulder straps with a sliding chest clip to make carrying more comfortable. Even better, kid-friendly magnetic closures and unicorns.
Patagonia Kids Bonsai Pack
Patagonia's retro-themed Bonsai has enough space for all the books and snack packs, thanks to a bucket-style main compartment and an easy-access external pocket. The bag is made from a tough, recycled polyester that handles all the wear-and-tear a kid can throw at it, and the water-repelling finish ensures books stay dry, even when your kid inevitably leaves the bag out in the rain.
Hudson Steller Lowell Day Pack
A sleek kids book bag that you'll debate keeping for yourself, Hudson Steller's upgraded take on the "1967 classic school book bag" includes a waterproof vinyl bottom, multiple interior pockets, and a dedicated exterior computer sleeve.
Ju-Ju-Be MiniBe Cape Cod
For the Yankee toddler who summers in Chatham, Ju-Ju-Be's toddler-sized Cape Cod MiniBe is machine washable, handsomely adorned with tiny lobsters and sailboats, and features a front pocket with an easy-for-small-hands magnetic closure.
Urban Infant Packie Preschool Backpack
As if the subway map print wasn't enough to showcase your toddler's hipness, the Packie backpack for school rocks a patented art silo tube on the side to ensure they can get their art home unscathed. Because nobody wants to fold up that precious hand Turkey. A matching lunch box and pencil pouch are sold separately.
Skip Hop Panda
The beauty of Skip Hop's Zoo collection is that it includes a ridiculous number of animals ⏤ 27 to be exact. So if your kid's weirdly got something against this adorable Panda with mesh sippy-cup pocket and insulated snack pouch, they can roll with a shark, chameleon, or leopard instead.
Babymel Zip & Zoe Dino Print
Zip & Zoe are two fuzzy cartoon characters that lie at the heart of Babymel's best backpack for school collection, and your kids are going to love them. Maybe. Either way, they're having a big dinosaur adventure on this junior backpack which features a large zipped front pocket, elastic bottle holder, and Zip or Zoe key ring.