These Gorgeous Teepee Tents Belong In Your Playroom
One even glows in the dark.
by Lexi Dwyer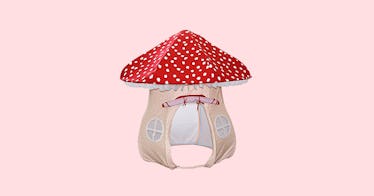 Play tents are the bomb. We are, of course, talking about kids' play tents, and especially some seriously dope teepee tents for kids.
Why play tents? Because they're perfect props for imaginative games—one minute the tent is a castle, next it's a ninja hideout—and can make cozy spots for extended reading sessions or even sleepovers as kids get older.
It's true that once you set up a play tent, it tends to take over the space. (After all, nothing says "I've got kids" like a giant structure in your living room.) But what if, instead of rushing to pack it up every night, you splurged on one that wasn't a total eyesore?
Which brings us to our favorite teepee tents. No one, we mean no one, makes more aesthetically-pleasing teepee tents better than Asweets. They're intricate, they're colorful, they're durable, the level of detail is second to none, and they're utterly whimsical in the coolest way possible. A basic playroom turns into a space station, a mushroom, even a glorious playhouse. The brand, founded in 2003, prides itself on making high-quality play spaces designed expressly for open-ended play.
Best Teepee Tents and Play Tents
Turn off the lights, and your kids will love the glow-in-the-dark stars and moon on this teepee tent. Note that the floor cushion is sold separately, but you can use just about anything padded instead. It has a four-panel construction.
This teepee tent, which has a bear theme, is for indoor use only. It's made of heavy cotton canvas, so it's warm for those brisk winter nights. It takes about 10 minutes to assemble. Best of all, you can fold the teepee tent and put it inside the carry bag when you're not using it.
The sky's the limit with this out of this world tent. It fits two or more kids and has pine wood frame poles that make it easy to assemble. This insanely cool play tent has mesh windows and flap opening door.
And suddenly, your boring basement morphs into a forest with this mushroom play tent. It has a peach background with white dots, two windows, and a roll-up door. The red roof is a large mushroom cap with white dots.
Arguably the only flaw with this product is that it seems to be modeled on the poisonous Amanita Muscaria mushroom, which can be found in the woods across America. Interestingly, when this mushroom is boiled down or otherwise processed it has psychedelic qualities. Remember the mushroom part of Alice in Wonderland? That's an Amanita Muscaria. Which is all to say that the design here, while arresting, might encourage some highly questionable (and potentially fatal) consumption habits.
Every product on Fatherly is independently selected by our editors, writers, and experts. If you click a link on our site and buy something, we may earn an affiliate commission.
This article was originally published on