The Best Swimming Goggles for Kids
It's time to hit the pool.
by Jon Gugala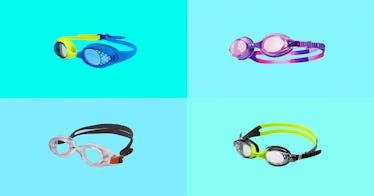 The height of summer means babies, toddlers, and kids of all ages are spending a lot of time in the water — learning to put their faces under, taking swimming lessons, and leaping wildly into sparkling pools, cool lakes, and ocean waves breaking gently onshore. That's why kids' swimming goggles are a must. They help protect kids' eyes from chlorine, salt water, and bright sun, and allow them to see well underwater, which boosts comfort and confidence in the water. The best swim goggles for kids let them practice strokes or explore freely, giving them well-fitted, watertight, clear-eyed view of underwater worlds.
We checked with Speedo for some guidelines on buying goggles. First, determine what kinds of goggles your kid will need: Are they using them for competitive swimming or just pool fun. Be sure to pick goggles meant specifically for kids, because they're sized correctly to fit their face and head shapes. Make sure goggles fit across the eye socket and the nose; if the goggles gently suction to your kid's face, they're a fit.
See more: The Best Sunscreens for Kids
How to choose kids' swim goggles:
Clear goggles are great for both indoor and outdoor swimming, and are ideal for low-light conditions, such as swimming in dim indoor pools or in the evening.
Mirrored lenses are better for indoor swimming, because they reduce brightness.
Polarized lenses give better glare protection and are ideal for very sunny conditions, such as afternoons at the pool.
We've rounded up some of the best kids' swimming goggles, in every category. All you have to do is add water.
The Best Kids' Swimming Goggles
Every product on Fatherly is independently selected by our editors, writers, and experts. If you click a link on our site and buy something, we may earn an affiliate commission.
This article was originally published on