Stock Tank Pools Are Here to Save Summer 2022
They're a pain in the ass. They're also worth it.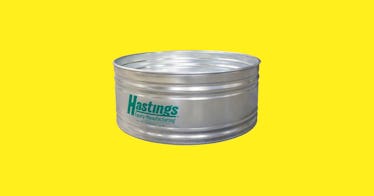 With spring temps and country club fees on the rise and coronavirus contraction an ever-present concern, many families are looking for warm-weather alternatives for swimming. Internet influencers have come up with an answer: the humble stock tank. Yeah, they're usually sourced for watering cattle, but a quick browse of Instagram shows that they can be adapted to semi-submerged humans. Don't get us wrong: We love pools, but without four or five figures of discretionary spending, the most affordable option is to create your own Redneck Rivera with a stock tank pool. We'll show you how.
Before we dive in (pun intended), it's worth noting that installing a stock tank pool is not the simplest job, and livestock water tanks aren't true replacements for swimming pools. They're shallow and don't exactly allow for a long game of Marco Polo. But if you're up for the challenge, a stock tank pool's benefits are a godsend on day eight of a West Coast heat wave. They're also far sturdier than their blow-up counterparts, allowing for year after year of use, and even with their maintenance and assembly, they are way, way more affordable than just about anything else out there.
So if you're the next victim of Instagram envy and are ready to try your hand at this low-cost alternative to a pool, we'll take you there.
Pool retailers still do not sell or install non-farm stock tank pools. (And why would they?) To find a stock tank, you'll have to go to a farm store, Tractor Supply, or co-op where they sell tanks of various sizes. And unless you're living in the country, you'll likely need to drive a bit to get there. The tanks, which range from $150-$400, aren't exactly pocket change, but they're markedly more affordable than even above-ground options, which can run you in excess of $1,200. Stock tanks are also some heavy mothers, weighing upwards of 150 pounds, making the transfer from a delivery truck to your backyard difficult. And in order to create a usable stock tank pool, you must have holes cut into the side of the tank to install — with quite a lot of epoxy — a water filter pump.
As far as the installation itself, it's fairly basic: You choose a flat area in your yard, deposit the stock tank, add the ground pool pump/filter, and you're in business.
Since this is a DIY project, there's no universal way to custom fit the tank for personal needs. Customizing your stock tank pool might include cutting holes to include water hoses, water removal pumps, or tank heaters. Or you can skip the pump, cut your losses, and either empty the water after each use or accept your fate of soaking in a filthy, mosquito-bitten reservoir.
Customization aside, there are best practices, and Stacey Maaser, a mother of five children, and blogger at Embracing Motherhood has cracked the stock tank tub code. Last year, she installed a stock tank tub and wrote about it.
The biggest challenge, Maaser says, is keeping the DIY stock tank pool clean. Maaser says she dumps the tank water two or three times every summer and tries to avoid algae build-up with bleach or a strong natural cleanser. She dumps the water by tipping over the tank and it swamps up the yard. She could have bought an inexpensive above-ground pool pump but she's not worried about it. That's easy stuff. The harder stuff is making sure the leaks are unintentional. Maaser notes that cutting the holes into the tank is the most critical step.
"It's getting the right cut, the right fit with the attachment pieces and using plumber's tape and epoxy," she says.
Lifestyle bloggers the Joshua Tree House posted a pretty comprehensive list of how to set up and maintain a stock pool. They recommend treating your pool once a week to "keep consistent chlorine and pH levels" and replace the filter every 2-3 months. You want to use pool test strips to check the aforementioned pH and chlorine levels, and chlorine tablets to keep the water clean.
Every product on Fatherly is independently selected by our editors, writers, and experts. If you click a link on our site and buy something, we may earn an affiliate commission.
This article was originally published on