Sphero's Awesome Kids Drum Machine Really Rocks
The Sphero Specdrums are a blast.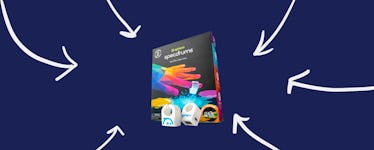 Little kids love making music. The problem is that they are almost universally not good at making music. Any parent with a piano, guitar, or any other musical instrument in their house knows of the discordant and fitful banging, twanging, and pounding of a kid trying to jam. Sure it doesn't diminish the joy for the kid, but that joy is short-lived because its annoying and parents have a tendency to shut it down quick. But happily, educational robotics company Sphero has made making music with kids much more enjoyable with their wildly groovy, wearable, color responsive Specdrums.
The Specdrum in and of itself looks pretty unremarkable. It's a minimalist-white, soft-silicone ring with a squarish housing that hides a sensor behind a small plastic window. In fact, unboxing the Specdrum, it's hard to imagine such a small, light piece of technology would be capable of anything particularly mind-blowing.
But that's very much on brand for Sphero, famous for their super-simple, programmable plastic ball — one of the most engaging coding toys for kids. The beauty of Sphero tech is really what's happening inside their gizmos and the way the hardware, with help from some clever software, interacts with the world.
The unassuming rings connect to your phone or blutooth enabled device to interact with the Specdrums app. For its part, the app features a library of drum loop sets. In each set, the specific instrument, melody or beat is triggered and plays via speakers on your blutooth enabled phone or tablet when the sensor on the ring recognizes a color.
This is basically how it works: Using the app, you pick a set of sounds on the app. Then you place the ring sensor against a color to play a sound. Placing the ring sensor against the color blue, for instance, might trigger a high hat. But place the ring on the color green and you may get a funky bass line. Each set in the app offers up to 12 different looping melodies or sounds that could include anything from bird song to bongos to a bunch of party people shouting "oooooooh yeah!"
While it may sound complicated the joy of the app is that it's incredibly simple and intuitive to use, which makes it perfect for kids. The specdrums come with their own color coded mat which puts all the trigger colors in a keyboard-like pattern, and once the beats start rolling it's kind of impossible for a kid to mess up the groove. They can add sounds and take away sounds to create an seamless never-ending track.
That ability to flow through a set of beats kept my music minded 5-year-old quietly entranced for literally hours. And he comes back to the Specdrum over and over, creating songs and taking dance breaks. The beauty of it is that I enjoy the music too and can bop my head while he plays on and on. And with two Specdrums paired to my phone we can collaborate like we're the dudes from Daft Punk.
Like all Sphero products the level of difficulty can be increased as skill grows. The Specdrums app allows users to record their own sounds and even create custom hues to act as triggers. Pro users can use the Specdrums as Midi triggers and play any variety of instruments.
My kids and I aren't there yet. For now we enjoy playing Specdrums at the table while dinner is cooking or wandering through the house to see what kind of sounds the color on our walls and furniture might make. The upshot is that Specdrums offer me and my kid a chance to collaborate and play musically without the headache of him pounding on the piano, and that a blessing.
This article was originally published on