Sphero's Ultimate Lightning McQueen Could Be the Future of Toys
It's crammed with cutting edge tech.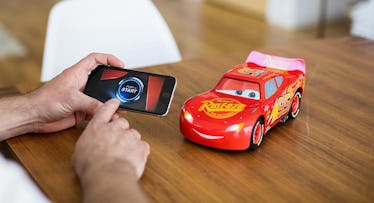 Pixar's Cars 3 is racing into theaters next month, but fans don't have to wait to get the latest version of their favorite talking car. Today, Sphero, the same company that brought Star Wars' BB-8 into homes, launched the Ultimate Lightning McQueen — and the smiling, speaking, smartphone-controlled racer is stuffed with so much tech it's less of an R/C toy and more of a robot stuffed inside a stock car.
RELATED: Holiday Gifts: The Best R/C Cars, Drones, and Monster Trucks
Among the app-controlled car's main features are an LCD screen in the windshield that makes McQueen's anthropomorphized animated eyes not only appear but act expressively, a light sensor that automatically turns ossn the high beams when it gets dark, and six motors — some of which power the car to speeds upwards of 6. mph but many of which are used to control Lightning's emotive suspension and bumper-mounted mouth.
In fact, Sphero has loaded the car with over 300 different phrases that come out of said mouth. It also has five capacitive touch sensors so that McQueen can respond to your touch. On a full charge, Lightning's good for 40 minutes of fun; when his tank is low it takes an hour of charging to give him a full refueling.
The Ultimate Lightning McQueen's technical prowess should not come as a surprise to those familiar with Sphero. Their BB-8 Droid could record holographic messages and even recognize its owner's voice. But even that adorable droid seems to pale in comparison to McQueen, as the app-controlled car looks to be the next step in toy innovation.
Utilizing this groundbreaking technological achievement on the Cars movies makes sense for Pixar, as kids can not get enough of Lightning McQueen and the Radiator Springs gang. The automotive franchise has made more than $10 billion for Disney via merchandising since the first film's release in 2006. The Ultimate Lightning McQueen costs $300, which, given its rad skillset, should convince people to spend more money on Cars merch.
This article was originally published on