Best Spatulas
Because every proper kitchen needs one. Or seven.
by Thelma Adams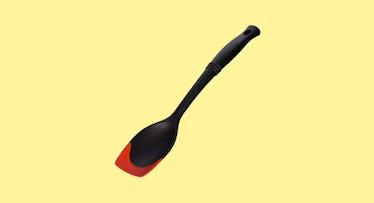 Spatulas are one of those essential kitchen tools we all have. But there's a difference between a pancake flipper and a tool for the grill. There's even a spatula, called the offset, that's made entirely for icing your baked goods.
Oddly enough, the kitchen tool is a little like a tennis racquet or a lacrosse stick. There actually is a method to the structure and materials. A short handle gives you more control. Use a long handle and it keeps your hand away from the heat – but that egg over easy can swiftly become scrambled in the frying pan.
See more: Best Aprons For Men Who Cook
Metal is better than silicone because it can be thinner and slide more easily under the food and not just push it around. However, no-stick pans demand non-metal spatulas that could abrade the surface. A small blade is better for small pans and gives you more control. A large blade lets you pick up more food at once and keep things like pancakes and fish filets in one piece. Slotted blades let fat drain out as you remove the food from the pan.
What are the best spatulas for your kitchen arsenal? Here's some flipping hot choices.
Best silicone spatulas:
Naturally, one of our go-to cookware brands has also elevated the spatula game. Because it's arched, you can easily use this spatula to flip heavy foods and scoop them out of pots.
This silicone spatula has a scooped shape, so it's ideal for mixing and scraping foods. You'll end up with perfect scrambled eggs every time. It's heat-resistant up to 450 degrees and is safe on all cookware.
This spatula is from a dependable brand, has strong grip and easy to clean silicone head, and is a great tool for flipping pancakes and burgers.
Customers actually write love letters on Amazon about this spatula. Sure it comes in a variety of colors but it's the fact that it's a kitchen workhorse and dishwasher safe that gets consumers to buy it in every size and shape. The premium silicone is just the right level of firmness with flexibility.
Best offset spatulas:
Rumor has it that this is the ultimate tool for spreading the ideal amount of PB&J right to the very bread crusts. With a wooden handle and stainless-steel blade, it's also a great size and weight, which makes it a go-to kitchen tool. It's also great for leveling dry ingredients and, of course, cakes.
The blade on this spatula is bent, meaning you can frost all your baked goods without any dents, and it keeps frosting off your countertops.
Best metal spatulas:
This stainless steel spatula will last forever, and it's dishwasher safe for headache-free cleanup.
This spatula features rugged construction and is built to last for a long time if well-treated – so hand washing is a plus. And it's the perfect size to flip salmon on the grill or off.
Brawny, sturdy and sizable, this metal spatula is perfect for when you need to slide it under the food on the grill. Short handled for maximum control. Buyers say it's worth the few extra Benjamins – and it has a built-in bottle opener on the handle.
Best wood spatulas:
High quality, sturdy and a perfect size, the wood spatula can also be used for other purposes like stirring boiling candy and scraping the bottom of the pot. And, unlike some other woods, bamboo doesn't absorb sauces or cleaning fluid.
This 12.5 inch spatula is pretty enough to use when serving up food, yet hardy enough to do the actual cooking.
Every product on Fatherly is independently selected by our editors, writers, and experts. If you click a link on our site and buy something, we may earn an affiliate commission.
This article was originally published on