Say Cheers To This ShotSki Inflatable Pool Float
by Donna Freydkin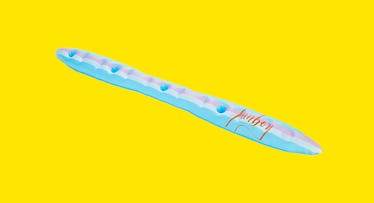 We've all been there. You're in the pool, maybe on a float, but there's something missing. Is it a book? A hat? No. That something is a shot of tequila.
Which is why you need the ShotSki pool float by FUNBOY. It sits five adults and has four cup holders, a perimeter grab rope, dual easy entry handles and a reinforced central mesh foot bath. It's literally a floating ski from which you can do shots. It features precision-cut shot glass holders that fit a variety of plastic shot glasses.
Let us repeat. A floating, inflatable ski that doubles as a bar. Whoever sat through a painful brainstorm and emerged with this idea deserves some kind of prize. Maybe even the Nobel, if they gave one out for somewhat bro-tastic floating devices.
Yes, this all sounds fancy. And, water lovers, it is! A ski? Meh. A float? Been there, floated in that. So you have two concepts that alone, are merely fine. But together, are downright brilliant.
But wait! You also get FUNBOY shot glasses with the float!
The float is six feet along. When it deflates, it fits into your pocket. You use an electric pump to inflate and deflate it.
Drink responsibly.
Every product on Fatherly is independently selected by our editors, writers, and experts. If you click a link on our site and buy something, we may earn an affiliate commission.
This article was originally published on