Samsung Black Friday Deals: Save $120 On the Samsung Galaxy Tab A Tablet
And the phone is on sale too.
by Donna Freydkin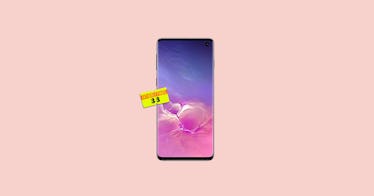 Sure, we love Apple iPads as much as the next person. But if you're in the market for something different, might we suggest the 2019 Samsung Galaxy tablet, released earlier this year? The price is right, thanks to Black Friday, which has arrived early this year and also includes Samsung phones for sale. Plus, gaming gear a-plenty. And pretty much whatever else you want, leading up to Cyber Monday.
Normally, dear consumers, Black Friday takes place the day after Thanksgiving. But this year, all bets are off. And in our effort to make sure you get the best deals, with no gimmicks, we found a few select ones that are actually worth your time and money.
Samsung Black Friday Deals
Sound that will make your ears smile. A gloriously clear display. And a price that almost made our eye pop. Yeah, the Samsung deal is one for the books. And this model has enough memory to store photos, videos, and all those Dude Perfect clips.
This powerhouse tablet has a 10.1 inch display. It has Dolby Atoms surround sound so you can watch Moana with perfect clarity. The battery run time is a lovely 10 hours. And this thing has enough built-in memory that you can store every version of Baby Shark.
And of course, the Samsung S10 phone is also on sale.
The Samsung S10 phone, released this year, has a crystal-clear 6.1 inch display, and a pro-grade camera. If you worry about your phone or data getting swiped, note that this phone has best-in-class fingerprint ID technology that detects the unique peaks and valleys of your fingertip in three dimensions.
Every product on Fatherly is independently selected by our editors, writers, and experts. If you click a link on our site and buy something, we may earn an affiliate commission.
This article was originally published on