This $99 Tool Will Make Your Gross Patio Furniture Look New Again
All it takes is one battery and two hours.
by Sal Vaglica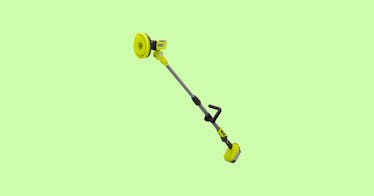 So you're finally ready to throw a cookout and have humans, those not part of your immediate family, over to eat some burgers and dogs and knock back some beers. But much as you may be hyped up to entertain your friends, make sure your yard is up to the task. And by that, we mean your grotty, nasty patio furniture, which has been sitting around for nearly two years now, unused, neglected, and in need of a good clean. And that's why you need the Ryobi 18V One+ telescoping power scrubber, which powers through grime, stains, and other nastiness in minutes. With minimal effort.
The business end is a six-inch diameter nylon bristle brush head that twists and locks onto the tool. The back end is a port to accept a Ryobi 18-volt battery, which is sold separately (or you can pop in the battery from any other Ryobi 18-volt tool you have). The head pivots and locks into­ six different positions to give you the best angle of attack on whatever you're cleaning. One button controls powers things on and off. The shaft telescopes up to 51 inches. That gives you access that might otherwise require a ladder, for things up high, and keeps you upright when cleaning something on the floor.
We've used it inside to brush a foaming cleaner into a rug. But where it really shines is outdoors. There we cleared the annual bloom of green algae off of vinyl siding, a brick chimney, and a patio table. We used it overhead to clean a shed's painted siding and down low to brush the gunk off a mesh pool cover.
The key is to have a bucket of water mixed with your soap nearby so you can dunk the brush head in, spin it to agitate the soap, and spread the cleaner on the surface. At about 4 1/2 pounds, without the battery, the tool's relatively lightweight, and a secondary handle helps keep it comfortable when working up high on walls. With a standard 4.0-amp hour battery, you can expect about 2 hours of runtime. It's worth mentioning here that 18 volts batteries with bigger amp-hours still fit the tool, but they prevent you from closing the waterproof housing that protects the power pack. The tool will still work, but you'll want to be mindful when working with a hose or around water.
At a set 210 maximum rotations per minute, the Ryobi spins about 1/3 as fast as the brand's standard-issue drill/driver. But unlike a traditional tool, there's no variable speed trigger to meter out the power. That means you might need to fuss with a little trial and error with the included medium, general-purpose head. Start in an inconspicuous spot to make sure you're not leaving scratches — don't use this on your car's paint. Ryobi offers two other brush heads for about $13. The blue soft bristle brush is for glass or stainless-steel grills. Use the black, hard bristle brush on masonry floors and the nastier cleaning jobs like scrubbing off loose paint.
With this kind of tool in the shed, you might be hunting for stuff to clean.
Every product on Fatherly is independently selected by our editors, writers, and experts. If you click a link on our site and buy something, we may earn an affiliate commission.