Stop Spending Money on Baby Nursery Decor
Baby nurseries are expensive — and don't actually help the baby. There's a simple solution here.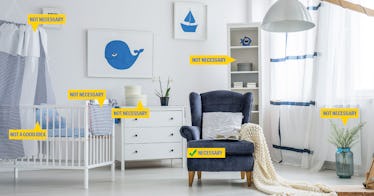 Expecting parents are expected to create a baby nursery with totes adorbs decor. Parents are pressured to do this so they look good when they post it on Instagram, so they look like their kid won't be raised in a hellhole, and to prove they have the resources to raise a kid. And boy does cute nursery decor require resources. Online baby retailer Maissonette wouldn't sell a $7,000 walnut crib with a 24-karat-gold base if parents weren't buying them. And they are. Well, rich parents are anyway. Still, in a world where wallpapering a 'Grammable nursery can run $2K, just think of how high your average expecting parents will want to reach. The answer: Higher than they probably should. The truth is, lavish nurseries are dumb because babies don't grow on conspicuous consumerism. They thrive on touch, sleep, and food, which are actually pretty damn inexpensive.
The only two things a nursery needs are a place for the baby to sleep and a place to nurse. That's absolutely it. And these can and should be minimal. According to AAP guidelines that place to sleep should have a firm mattress covered in a tight-fitting bottom sheet and nothing else. No blankets, no bumpers, no pillows, and no stuffies.
If there's going to be actual nursing going down in the nursery, then mothers will want a place to sit, preferably close to where the baby is sleeping. This place to sit should be comfy without being sleep-inducing. Rocking is optional. And next to a place to sit during nursing there should be a table where nursing snacks, burp cloths and maybe a book can be stored. It's all purely functional.
But what about the changing table and wicker baskets for storage and a diaper genie and a white noise machine? Unnecessary. You can change your baby on the floor (hell, it's safer; they can't roll off and fall from there). You can take the diapers out of the packaging. You can store your baby's clothes and sundries in an old filing box.
This is not to say that parents can't have fun with their nursery. It makes them feel good and they have the time and money then there's no reason not to go bonkers. By all means, paint a reproduction of the Sistine Chapel ceiling but with God and Adam as teddy bears. Go hog wild on a forest motif featuring real, stuffed feral hogs. Wallow in grey on grey with weathered wooden pastel letters spelling out a cute play on your baby's name in old-timey font and precious felt pennants spelling out "Live, Laugh, Poop."
Do it if you enjoy doing it and have the resources to. Don't bother if it causes you stress — financial or otherwise. Worrying over paint colors, designing murals, or plopping down money on a bunch of matchy-matchy Pottery Barn paraphernalia is totally unnecessary. Because, frankly, babies don't give a shit.
So what are parents feeling the urge to nest to do? Prepare with the things you actually need. Maybe make sure you're on the same page with the division of labor. Maybe stock the house with consumables that you'll fly through in the first months: freezer meals, butt wipes, snacks to feed a nursing mother. Maybe discuss college savings plans and other finances.
A baby doesn't know a layered window treatment with a louvered shade from a janky ass blanket you hung up to keep the light out. A baby doesn't know a locally designed minimalist mobile from a gas station dream catcher. And more importantly, none of these things will improve or hamper your baby's development — no, not even the dreamcatcher.
We design nurseries to be happy, cute places not for the baby but because we think babyhood should be surrounded by cute happiness. But what a baby really needs is a place to sleep and nurse.
That simply means that expectant parents shouldn't feel guilty if they have no room for a nursery, or don't have the time to build an Instagrammable nursery should space allow. Rest assured that the nursery and its decor is a ridiculous concept. A nursery just makes a lot of work for new parents for a little person who will never, ever remember it. Better to just spend the money and time enjoying your life pre-baby. Because, nursery or no, everything is about to change. And when it comes right down to it, all you and your kid will remember from their baby years is the love you share, no matter where you share it.
This article was originally published on