The Best Outdoor Hammocks for Backyard Snoozes
There are naps, and then there are hammock naps.
by Jeff Foss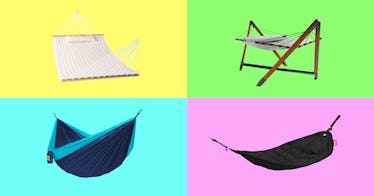 There's a right and wrong way to summer, and the right way demands a strict regimen of relaxing, chilling, and kicking back. For high-wattage leisure time, the first thing you need is a high-quality hammock. Choose wisely, though, because nothing spoils an afternoon hang faster than a subpar man-sling. The best hammocks serve as outdoor slings for adults, where you can read a book, take a nap, or hide out from the kids.
When buying a hammock, you must, of course, like the way it looks and feels. However, the other two primary factors are desired setup and how and where you'll be using it. Do you want something you can string up between any two trees, or will you need an independent stand? Along those same lines, will your hammock sway forever in your yard, or do you want something that can be compressed and carried into the backcountry? Depending on your answers, you might be in the market for a plush double-wide Cadillac of a hammock, a narrow ultralight papa-pouch, or something in between.
Another consideration is capacity (one or two adults). Like waterbeds, hammocks are sensitive to even the tiniest of movements, so think long and hard about whether you'll be lounging solo or partnered up. (To note, most one-person hammocks can easily accommodate an average-size dad and at least one tranquility-shattering child.)
Finally, make sure you pay attention to everything included in the purchase. Most pouch-style hammocks can be hung in seconds via loops and carabiners; meanwhile, hammocks with expander bars (which hold them flat and open) sometimes require freestanding bases that are (sneakily) sold separately.
Every product on Fatherly is independently selected by our editors, writers, and experts. If you click a link on our site and buy something, we may earn an affiliate commission.
This article was originally published on