Nimble's New Portable Battery Pack Will Never Leave My Side
It can charge an iPhone X about five times over, is able to refuel laptops, and ensures that I'm never out of touch with my family.
by Tyler Hayes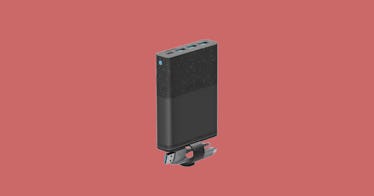 These days, a depleted battery means much more than a dead phone. It means a missed email from a client or coworker, a missed text from the sitter, a missed calendar notification from Siri. A dead phone means you're cut off from the world and, as a parent, it needs to be avoided at all costs. Sure this may seem exaggerated, but don't we often make choices, like picking where we sit, not based on a view or comfort, but based on outlet proximity?
Since you can't carry around an electrical outlet, the power bank or portable battery pack has become a must-carry accessory. These external batteries let you refuel your phone when its power levels are dwindling so you never have to suffer the fate of a dead phone. I've carried my fair share of battery packs over the years but the Nimble 5-Day Fast Portable Charger is my new go-to. It takes all the power anxiety out of my life.
The 5-Day Fast Portable Charger is a small rectangular battery pack about the size of a wallet. It has a capacity of 13,000 mAh and can charge four devices simultaneously via its three USB ports and single USB-C. That 13,000 mAH battery pack provides enough capacity to charge an iPhone X about five times over. It can also fast-charge capable devices and get a 50 percent charge in 15 minutes. In short, it has plenty of capacity to supplement a bag full of devices.
The most important aspect of the 13k Nimble Portable charger, that spans across the entire Nimble line, is the USB-C port, which can be used to give or receive power. Among other things, this means that I can use it to recharge my 12-inch MacBook and the growing number of devices that use the new USB-C for power.
The Nimble has a speed of 18 watts, which means charging my 12 inch MacBook is a little slower than it is with the laptop's included 29-watt adapter. But it's still a lifesaver: The other day, I was able to charge my 12-inch MacBook 16 percent in 32 minutes, while continuing to use it to write and browse the Internet. Not bad. Don't have an Apple laptop? How about a Nintendo Switch? Because that also uses a USB-C port for power. It will come in handy.
Design-wise, the Nimble is sleek and stuffs easily into a bag. My favorite element, which also spans the entire Nimble line of portable chargers, is the magnetic cable wrap that attaches at the bottom. It's clever organization, without permanently integrating a cable into the battery casing.
In short, the charger has changed my daily carry. The small size and weight make it easy enough to include in my cable pouch. I've also been able to trim some cables because of it. Now, I just need a USB-C to Lightning cable, my MacBook USB-C charger, and its USB-C to USB-C cable to power every Apple device I take with me, including AirPods.
If you'd prefer something a tiny bit lighter and smaller, check out the 10k version. It will also save you $10. But, overall, I think the 5-Day Fast Portable Charger hits a very sweet spot as the far as ports, compact size, and cost are concerned. (If you really are interested in regularly charging a laptop with USB-C, you should look at the 20k version)
Oh, and as an added bonus: Nimble's portable chargers are made with recyclable aluminum and plant-based bioplastics. The packaging is intentional as well with recycled paper and no harmful inks, plastics, or dyes. To top it off, an envelope is included to ship other electronics back to them free, for responsible recycling.
A big promise of USB-C was more device compatibility, including laptops, and now with Nimble's 13k and the others in the line of portable chargers, I think we're reaching that promise. At the very least, it will help keep you connected to the things that matter when no outlet is near.
This article was originally published on