Assemble a Killer Nerf Arsenal For Less With These Prime Day Deals
These deals blast away the competition.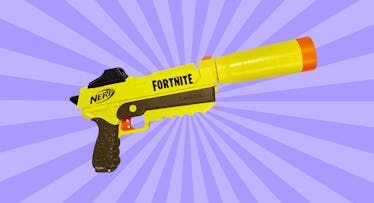 Whether you're an experienced dart blaster or you're in the market for your kid's first Nerf gun, you don't want to miss Amazon Prime Day deals on Nerf blasters. There's no shortage of options, from small six-round models to tripod-equipped sniper blasters. You can also save on extra rounds, which means less time spent rooting around under the couch for lost darts and more time pelting your adversaries with foam.
See more: All the Amazon Prime 2019 Deals You Need To Know
We picked seven of our favorite Nerf items that are on sale today. But don't delay: These deals will fly away faster than an elite round out of a Nerf Rival Prometheus.
This lightweight, handheld blaster looks just like the one in the popular video game. Operation is dead simple: simply pull back the slide, aim, and squeeze the trigger.
This compact blaster can shoot darts up to 90 feet, and the barrel flips out when empty for easy reloading. It's battery-free and features Slam-fire blasting, a feature that lets you fire a wave of darts by moving the slide back and forth as you hold down the trigger.
Because it has a motor, you can fire all of the darts in this blaster distances of up to 90 feet simply by holding down the trigger. It only comes with six, so we recommend using some of the money you saved to load up on more darts.
This Amazon-exclusive blaster comes with three clips, each of which holds six darts. The two that aren't in use can be stored in the shoulder stock, which makes them easy to access in the heat of battle.
The Praxis comes with a removable stock and 10-disc magazine, and there are other accessories available for those who want to modify their weapon even further.
The clip itself lights up to illuminate the next dart to be fired, so your blaster will look just as cool as its ammo.
More Amazon Prime Day 2019 awesomeness: The Best Deals on Kids Toys and Games
This beefy blaster comes with 100 rounds, so you can spray down your enemies with abandon if that's what it comes to (trust us, you'll want it come to that).
Every product on Fatherly is independently selected by our editors, writers, and experts. If you click a link on our site and buy something, we may earn an affiliate commission.