The Best Legos for Adults Because Legos Aren't Just for Kids
Building a 3,898-piece soccer stadium is a seriously worthwhile endeavor.
by Donna Freydkin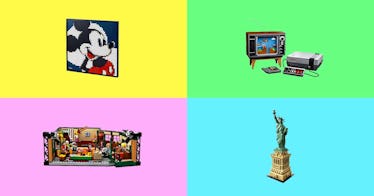 We've long waxed poetic about the joys, and developmental benefits, of building Lego sets. Children learn the basics of problem solving as they figure out what bricks belong where. They engage in open-ended play, since they can combine the shapes and colors to build castles or boats or dinosaurs or wombats. And there's the satisfaction of creating something out of nothing more than a pile of small plastic shapes. But, as many parents have learned, Legos can be just as gratifying for grown-ups, and Lego sets for adults are just a little bit more complex and interesting — but just as fun.
Legos for adults are weirdly satisfying for the same reason that kids love them. Billie Lourd built Lego Architecture sets during lockdown, she revealed during a podcast interview, because it gave her brain a workout. Orlando Bloom is a fan of Lego car sets, a hobby he shares on Instagram. All this is to say that there's absolutely no shame in loving Legos because, quite frankly, they're an awesome way to kill some hours while also putting your creativity to work.
Every product on Fatherly is independently selected by our editors, writers, and experts. If you click a link on our site and buy something, we may earn an affiliate commission.