The Best Lego 'Jurassic World' Sets For Dinosaur Fanatics
Unleash their (or your) inner paleontologist.
by Donna Freydkin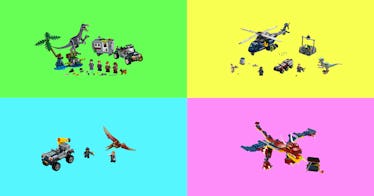 The Jurassic World and Jurassic Park films explore what happens when humanity toys with nature, or a highly fictionalized version thereof. Marauding beasts go after clueless tourists. And the mayhem is documented in detailed Lego Jurassic World sets that are crammed with heroes, vehicles, disasters, buildings, labs, and, of course, dinosaurs. Lots and lots of dinosaurs.
One thing we particularly love about the Lego Jurassic World sets is that there's one for just about every age and building ability. The creatures are incredibly intricate. Plus, unlike other Lego sets, which are very gender-specific, these are blissfully non-gendered. And if your kids loves the Tyrannosaurus (and really, who doesn't), these Lego sets are the best ones to buy, especially if you plan on seeing Jurassic World: Dominion when it opens next summer.
capture the escaped Dilophosaurus dinosaur. " tracking="lego-jurassic-20"]
Every product on Fatherly is independently selected by our editors, writers, and experts. If you click a link on our site and buy something, we may earn an affiliate commission.
This article was originally published on