The Lawn Mower 2.0 Electric Shaver and Trimmer Will Make Your Penis Look Bigger
It's the ultimate grooming tool for your twigs and berries.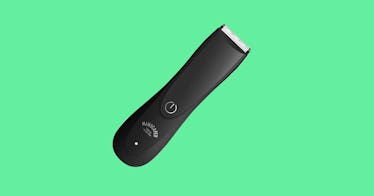 The Manscaped Lawn Mower 2.0 is a grooming tool that's part electric shaver, part bush trimmer, that I will not give up any time soon. And that's an odd turn of events in my life as a 40-year-old man. Because, the fact is, while learning how to manscape, I could have never imagined I'd find a tool designed to shave pubic hair crucial to my routine. But here I am, with an exquisitely groomed jock, a happy wife and a penis that looks noticeably larger. Go figure.
Anyone who has used a modern hair trimmer on their head or face will be familiar with the design of Manscaped's Lawn Mower 2.0. The biggest difference is that the Lawn Mower sports a super sharp ceramic blade and is incredibly compact, fitting neatly in the palm of the hand. It also has a soft, matte-black finish and a decent heft that makes it feel very well made.
The Lawn Mower arrives with two guards that can each be flipped to provide the option for four distinct hair trim lengths. Powered on, the Lawn Mower is powerful and quiet, which provides the confidence to use it around your penis and testicles without damaging anything important. So, thank goodness for that.
That confidence was particularly comforting for me, considering that until the moment I turned the Lawn Mower on and cautiously aimed it at my crotch, I'd never shaved down there. I have no real excuse for not maintaining my man-bush.
Because I'm a giver, and I prefer to go big when trying new things, I asked my wife if she had any preference for what she'd like to see. She urged I not go bald and also, whimsically, requested I shave in a heart shape. Sure. Why not?
So, T-shirt-clad and bottomless like Porky Pig, I chose the second-longest guard, stood in front of my bathroom mirror, hiked my leg up on the toilet seat and went to work. The ease with which the Lawn Mower cut through my unruly under-growth was actually pretty startling. The satin finish allowed the clipper to move effortlessly over my skin and the sharp blade meant there were no painful snags. And while I worried that might change when I got to my jewels, I was pleasantly surprised the sack-wrinkles didn't hamper my progress.
Soon enough I'd tamed my pants-jungle and it was time to give it some shape. Removing the guard put the blade right next to my skin with zero discomfort. Unfortunately, because I'm a pube grooming novice, I did make one mistake: My heart design was a bit too low. So instead of a nice valentine pointing at my D, the resulting heart-arches looked more like elephant ears surrounding a comical trunk.
But the embarrassment was short-lived. Because in shaving I realized I'd been hiding my light under a bushel, so to speak. Shortly after shaving, my wife entered the bedroom and said the one thing that could make me a regular shaver: "Wow, your penis looks a lot bigger."
But importantly, I'm not holding onto the Lawn Mower just for vanity's sake. I've discovered that trimmed hairs down there also improves intimacy. There's a lot of sensitive skin around the shaft that's been longing for sensation, and frankly, the clean look is more convenient for certain intimate endeavors. And that has delighted both me and my wife.
So now I'm on board the pelvic pruning and I'm a bigger man because of it. I welcome the Lawn Mower 2.0 as an essential part of my dopp kit.
Every product on Fatherly is independently selected by our editors, writers, and experts. If you click a link on our site and buy something, we may earn an affiliate commission.
This article was originally published on