Holiday Gifts: 29 Last-Minute Christmas Gifts For Every Last Person On Your List
Procrastinators, this is our gift to you.
by Donna Freydkin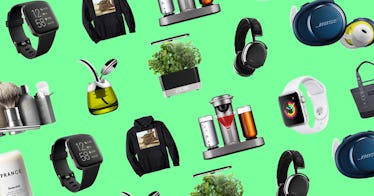 We're not sure why we're left scrambling to score last-minute Christmas gifts every year, but here we are: Another Christmas season that started right after Halloween, another Christmas season ending with chaos. It's Groundhog day, every year. Do yourself a favor: avoid the mall (ugh) and shop online, as two-day shipping means plenty of great gifts can be ordered with ease to arrive by the 24th.
Our favorite last-minute gifts come in a bunch of different prices, from stocking stuffers to prime under-the-tree candidates. But most importantly, they're all available on Amazon Prime so, like Santa, they'll get here right on time.
Best Last-Minute Christmas Gifts
This sleek stand elevates your MacBook for a cleaner, less cluttered workspace, and it nicely complements your home decor.
These cashmere socks are so soft, so decadent, she'll never take them off. They're a great gift for any woman in your life.
This refined olive oil pourer takes dressing your salads, or dipping your breads, to a whole new level.
You don't need a green thumb to grow six herbs in this self-contained garden. It does the thinking for you, thanks to a control panel that tells you when to add water and when to add plant food. Plus, it automatically turns lights on and off.
Editors at Fatherly rave about this tote, because you cannot beat it up. We especially love the sturdy waterproof bottom that keeps this thing upright. And watertight.
No matter what situation you find yourself in, you'll be prepared with this backpack. It's filled with everything from three days' worth of food and water, to a poncho, to toothpaste and a toothbrush, to chocolate (of course) and a full first-aid kit.
Yes, of course, there's always basic black or tired gray. But this patterned sleeve, which is fully padded and fleece lined, looks good and fits a 13 inch MacBook.
A soft, cozy winter hoodie featuring our favorite toddler? We're all about baby Yoda. Find us someone who isn't. Yup, still waiting.
Kids and adults will love this kit, which has everything from paint brushes and paper pads to colored pencils and washable markers.
Not as fancy as its older siblings, the Apple Watch Series 3 nevertheless has all the features the average person needs to be active and stay connected.
If you'd rather not buy toys, buy this inspiring shirt instead. In terms of role models, you can't go wrong with RBG.
If that stocking isn't quite as stuffed as it could be, this dopp kit is an excellent idea. It's understated. It's sleek. And it keeps every bit of grooming gear in one place. It has origami-style internal pocket layouts for organization.
Men, you have to take care of your skin. And this set has everything he needs: A cleanser, a scrub, a moisturizer, and of course, a lip balm. This stuff really delivers.
Elemis makes products that get the job set. And this set is nicely packaged, to boot.
The signature item in this shaving kit is the brand's safety razor, which is designed specifically to prevent razor bumps and irritation. Plus, the set includes a shave brush, shave oil, balm, and shave cream. And none of it smells like AXE.
This candle, no joke, smells like a buttery croissant. Minus the plane ticket price.
The home decor buff in your life will appreciate the design of this diffuser, and the richness of the scent.
You use the app to manage what photos show up in the digital photo frame, and you can share photos with your family network. Plus, the photo frame has a 16:10 aspect ratio display with 1280 x 800 resolution that auto adjusts to portrait or landscape placement. A perfect gift for grandparents, new parents, dog parents, you name it.
This planner helps get the new year started off right, and get anyone's priorities in order.
Small yet powerful, this mini drone weighs less than 250 grams, about the weight of your phone. You get 30 minutes of flight time, capturing gorgeous visuals from the sky. The Mavic mini done supports 12MP aerial photos and 2.7K quad HD videos.
It's your grandfather's pocket knife, updated. You get a slim, minimal design that's big on style, low on baggage.
The Fitbit Versa 2 comes with Alexa built-in for easy access news and weather. This smartwatch can be used to track sleep scores, and of course, how many calories are burned. Plus, there's access to thousands of songs. But note that because it's back-ordered, it may arrive just after Christmas.
At just 0.02 inches thick, this case is one of the thinnest around. It's free of gaudy branding, and has a raised camera ring to keep the lenses on the new iPhones protected. It's not the best for frequent droppers, but for keeping the new iPhone scratch-free, this case is hard to beat.
These outstanding gaming headphones are compatible with PC, Mac, Switch and Playstation, have low sound distortion, and a ClearCast microphone that delivers studio quality voice clarity with background noise cancellation.
These workout earbuds charge in two hours. They are sweat- and weather-resistant with an IPX4 rating and have a secure fit, so they won't move around no matter what goes down in the gym. Or on a hike.
The only thing better than Bose sound is 360 degrees of Bose sound as delivered by the Bose Soundlink Resolve. Twelve hours of battery life, IPX4 water resistance, and easy access to your phone's voice assistant round out the feature list on this bad boy, a great gift for music- and podcast-lovers alike.
It can still play the impressive library of Switch games, and it's hard to imagine anyone who enjoys a video game or two being bummed when they unwrap this thing.
Give the home bar an upgrade with this cocktail maker, which makes craft cocktails after you insert a capsule. It even measures out booze on its own.
Putting food in plastic bags and cooking it slowly in a vat of heated water doesn't sound particularly appetizing, but once you taste a perfectly cooked sous vide steak you'll get it. There are thousands of other recipes included in the companion app for this cooker, and if you're connected to it via Bluetooth starting the process is as simple as pressing a button. Bon appetit!
This brightly-hued six piece set of premium steel knives includes all the basic blades you need. Plus a great pop of color.
Want to make some mesquite popcorn for the kids? A cherry-smoked old fashioned for yourself? Quick-smoke some pork belly? The Breville Smoking Gun is the gadget for you, friend. You can use non-presoaked wood chips, tea, spices, hay, dried flowers, and herbs in this thing, so the flavor possibilities are endless.
This camping hammock is under $30 and has a staggering 4.8-star rating on over 4,100 (!) reviews. It can be easily set up between two trees in a remote area of the wilderness…or the ones in the backyard.
The Pegasus is a great gift for anyone involved in any number of projects. The six integrated clamps are handy for securing wood (up to 300 pounds), and when you needs a sawhorse, a few quick twists and you've got one. At a mere 30 pounds, you can easily haul this thing wherever you need it.
This gadget from TaoTronics turns any audio source with a standard headphone jack into a Bluetooth source, so you can finally use those expensive headphones to watch in-flight entertainment. It also does the opposite, so you can plug this thing into your home audio system and play music from your phone around the house.
Flip-flops inevitably get dirty, which means everyone who wears them will eventually need a fresh pair. The Fanning Flip Flop from Reef is a great choice. They have way more arch support than cheaper (and even some more expensive) options, and made to get wet. Plus, there's a bottle opener, so any al fresco beers can be opened with ease.
Whether you want to carry daily rations, keep beer cold on the way to the beach or, haul back your catch of the day from the local creek, this is the roll-top bag for the job. The Pro Cooler XL weighs 3.5 pounds but can pack 24 cans inside of its odor-proof interior. Padded, ventilated straps make it easier to carry than similar models.
Every product on Fatherly is independently selected by our editors, writers, and experts. If you click a link on our site and buy something, we may earn an affiliate commission.